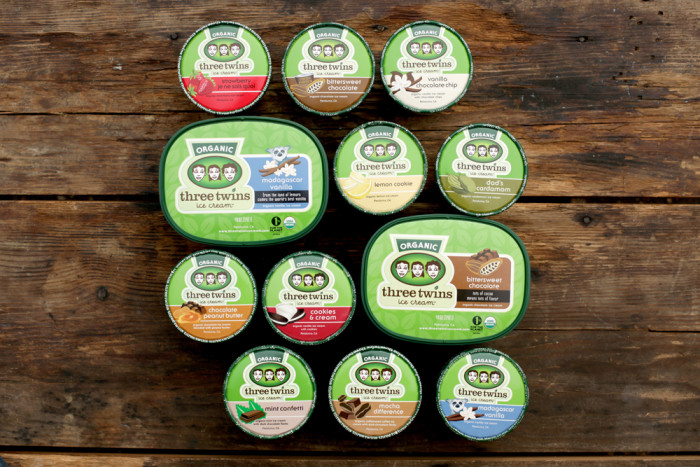 When the weather soars into the 90s there is only one place I want to be: in an air-conditioned room or a breezy porch, with a scoop of ice cream, naturally.
You don't have to stick with tubs of conventional ice-cream brands where the ingredients, while indulgent, have an unknown origin. Up the ante by buying a pint of ice cream made by a company that believes in adding farm-fresh, artisanal ingredients for flavor.
Three Twins Organic Ice Cream
Founder Neal Gottlieb, a former Peace Corps volunteer in Morocco, promises he's sourcing 80 percent of ingredients from within 30 miles of Three Twins' Petaluma, California, headquarters. What does this mean to you? How about sweet strawberries packed into the Strawberry Je Ne Sais Quoi flavor that you'll swear were picked just days ago (and might have been)? In addition to using organic ingredients, Three Twins has vowed to offset its emissions, use compostable serving dishes at its three Bay Area cafes (plus the Berkeley, California, farmers market) and compost its waste. Pints are sold at grocery stores around the country, including those in Oregon, New York, and California.
Ben & Jerry's
Remember that scene in the 1991 movie City Slickers where "Ben Cohen" and "Jerry Greenfield" (played by Ira and Barry Shalowitz) are sitting around a campfire dreaming up flavors? Well, the most recent initiative from this do-good ice-cream company based in Waterbury, Vermont, is to source Fair Trade–certified ingredients, the perfect tie-in to Vermont-made raw milk that is transformed into ice cream. Didn't make it to Bonaroo (the just-completed music/arts festival in Tennessee) this year? Dip into Bonaroo Buzz, which has Fair Trade cocoa and coffee along with whiskey-caramel swirl (didn't you know that Tennessee is home to Jack Daniel's?), or try Stephen Colbert AmeriCone Dream with Fair Trade vanilla. A new flavor is Fair Goodness Cake, which goes whole-hog on Fair Trade ingredients, including cocoa, vanilla, and coconut.
Laloo's Goat's Milk Ice Cream
If you're looking for a savory side to ice cream, meet Laloo's, which is a Petaluma, California–based ice-cream maker that uses local goat's milk (more calcium and protein than cow's milk, and perfect for lactose-intolerant ice-cream lovers) for the base. Added to it are ingredients grown in surrounding Sonoma County, such as Valley Orchard black mission figs for Laloo's Black Mission Fig flavor and organic garden mint for the Rumplemint flavor (which is low-fat). There's even a Berkeley, California-made chocolatier (Scharffen Berger) in one of the flavors (Deep Chocolate). Founder Laura Howard-Gayeton puts her heart and soul into Laloo's, along with her husband Douglas Gayeton, who she has nicknamed "Rumple" (Rumplemint is the flavor in his honor). The couple previously worked as film executives in Los Angeles before retiring to a simpler life in Sonoma County.
Batch
Sadly, Batch is only sold in Massachusetts at the moment, but if you are in the state this summer, make sure you scout out a pint. Dairy to make the ice cream comes from a farm in nearby Tiverton, Rhode Island. Many of the ingredients used stem from Western Massachusetts and New England farms, cutting down on Batch's carbon footprint, sure, but also in pursuit of gourmet quality. For instance, the Salted Caramel flavor has sea salt and butter from Maine, and within the Ginger flavor is fresh ginger harvested from a Western Massachusetts farm. There are a total of seven flavors that are all made by hand in Boston by founders Susie Parish and Veronica Janssens, who believe in using fresh, local ingredients (even coffee beans for the Coffee flavor) and make their own caramel syrup.
Jeni's Splendid Ice Creams
Another regional favorite — Jeni's — is winning over a lot of sweet tooths in Ohio. Based in Columbus, Ohio, the company has shops in that region but pints can be ordered online to help satisfy midnight cravings. The ice cream is made with cream from grass-fed cows and dressing up the base is nothing but fun, with the Wildberry Lavender touted as "tastes like Fruit Loops." Many of the ingredients can be traced back to farms, such as the Ugandan Vanilla Bean flavor's vanilla harvested on Ndali Estates, and the goat cheese in Goat Cheese with Red Cherries flavor from Ohio's MacKenzie Creamery. Jeni even borrows inspiration from a neighbor to its Grandview Heights store — Stauf's Coffee Roasters — by steeping Stauf's coffee grounds in cream, creating the Black Coffee flavor.