A New Tennessee Whiskey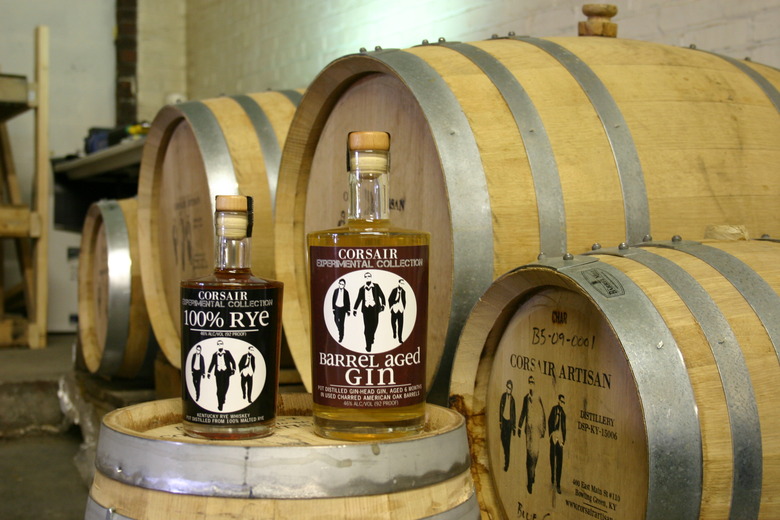 Corsair whiskey
Until recently, Tennessee whiskey meant Jack Daniels or maybe George Dickel. Only three counties out of 95 in the state were allowed to distill spirits. But in 2009, a law was passed that allowed distilleries to open up shop in 44 of Tennessee's counties. The first to do so was Corsair Artisan, a microdistillery based right out of Nashville. Of course, whiskey takes time to age, so it was years before some of its brown liquors even saw the light of day. It's been worth the wait: Corsair is turning out whiskies the likes of which your grandpappy has never seen.
Operating out of what was once the home of Yazoo Brewery, the location is ideally equipped for making whiskey, considering the process starts with a beer mash, minus the hops. And therein lies Corsair's greatest innovation: taking its inspiration from brewing, it's creating whiskies made from different beer mashes. Surely, you've never had an Imperial Stout whiskey before.
Ironically, if you visit the Jack Daniels distillery, you can't taste Jack Daniels there. It's one of the quirks of Tennessee state liquor laws. But, thanks to new legislation, you'll soon be able to taste Corsair's whiskies at their Nashville facility. And you can already taste a number of craft beers in Corsair's Taproom, in honor of the building's former incarnation as a brewery. Its whiskies are currently available in a handful of states, including Washington, California, Kentucky, and Georgia. Co-founder Darek Bell says they should be on shelves in New York, New Jersey, and Connecticut within two months. You can also buy Corsair's products online from sites like D&M.
Look for its acclaimed Triple Smoke, with the cool, Reservoir Dogs-esque label, perhaps the first American peated whiskey you've come across. We usually associate a smoky flavor with single-malt Scotch. But Corsair's smoky whiskey is distinctly American, comprised of three fractions of malted barley smoked, respectively, in cherry wood, peat, and beechwood, then pot distilled and aged in new charred oak barrels. Triple Smoke has the honeyed vanilla notes of an American whiskey and the fruit and peat flavors of a Scotch. Enjoy it neat or in your favorite Scotch cocktail.
Corsair's experimental whiskies include the Rasputin, which starts with an Imperial stout beer. Whiskey makers are not known to use hops at all, but when this whiskey is distilled, the spirit vapors get passed through hops. This step adds spicy, floral notes to the sweet malt and chocolate of the stout. The result is a lightly hoppy whiskey...who knew such a thing could work? (In fact, that's exactly what Bell said to himself when he came up with the idea.)
My personal favorite is the Oatmeal Stout Whiskey, a deeply caramelized, gently savory whiskey full of nutty, sweet notes that really evoke the meal of a beer that is oatmeal stout. It's released as a Single Barrel, which means each bottle is subtly nuanced from the next. All the more reason stock up on more than one.