Zyliss All-Citrus Juicer Review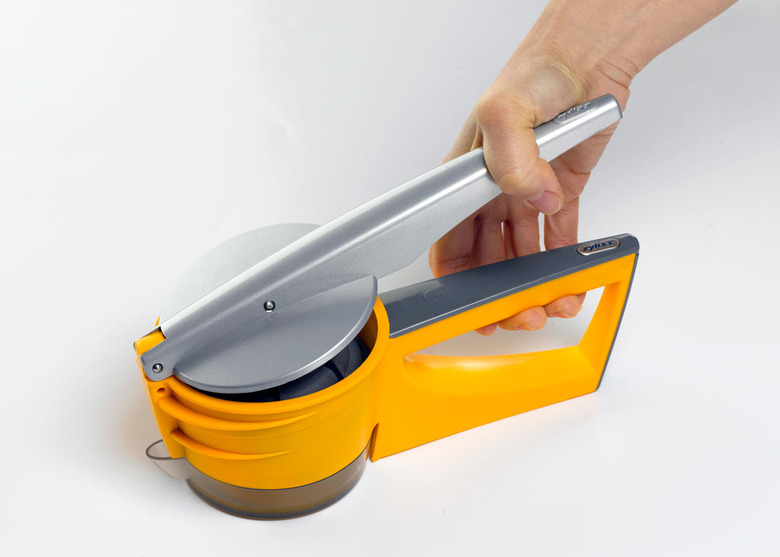 Zyliss all-citrus juicer
The Gadget: Zyliss All- Citrus Juicer
The Price: $24.99
The Story: A glass of fresh-squeezed OJ is a refreshing way to start your day. We know it delivers a healthy shot of vitamin C and is always welcome when someone else is doing the squeezing. Yet, fresh-squeezed citrus is much more versatile than simply gracing the breakfast table. Lemon juice can liven up everything from seafood to salad. Fresh lime juice makes any margarita or mojito so much better than what spits from that strange little plastic lime you find in grocery stores (not to mention it's cheaper). Orange juice squeezed straight from the fruit is marvelous in marinades, desserts and salad dressings. So if you're looking to freshen up your culinary repertoire try this little handheld juicer.
While it is called the All-Citrus Juicer, you need only to take a peek to know a grapefruit won't be fitting inside this contraption. So "all- citrus" it may not be, yet for the lemons, limes, and oranges I squished, it got the job done in a neat and timely fashion. It's not an electric machine; it's a gadget, so you still need to put a little elbow grease into the squeeze. That being said, I felt healthier and stronger as I sipped my delicious glass of fresh OJ. On the down side, and it's a very vain one at that, it only comes in orange. If that's not your color you may reconsider. It's also too big to fit in a standard drawer.
The Verdict: You may be thinking, why not just use my reamer or a fork to get the juice I want. Well, like most gadgets, this one's a multi-tasker, acting as a reamer, a strainer, and a detachable cup with a pour spout that catches every little drop of juice — yet only holds about a half cup). This makes it a perfect addition to your bar set-up and is ideal when making marinades. The whole thing is dishwasher safe (though just as easily cleaned by rinsing it under a faucet) and it has a non-slip grip on the bottom of the cup so your citrus won't escape your squeeze. Say so long to rolling lemons and limes before you squeeze, this citrus juicer eliminates the need with one simple squeeze.