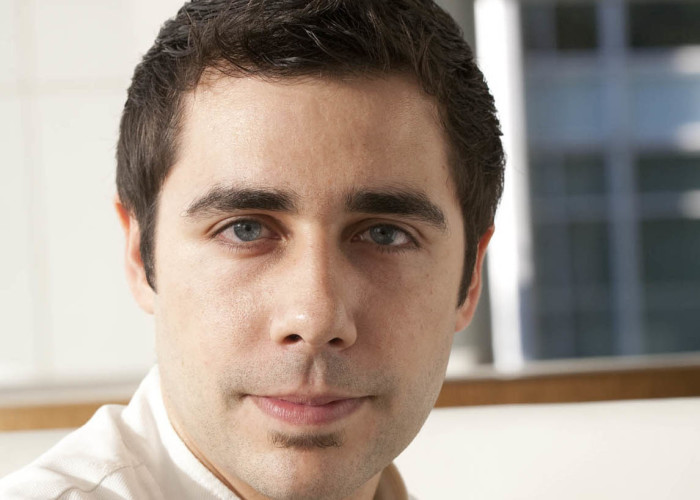 As the story goes, when Tori Spelling auditioned for her eventual role of Donna Martin on Beverly Hills, 90210, she used the name Tori Mitchell—as not to tip off the casting director that she happened to be the daughter of Executive Producer Aaron Spelling. We think that story is bullshit. We also think that, despite the name, Cedric Vongerichten has taken the slow road to the top of his father's empire, leading to the Executive Chef position at New York's Perry Street.
After opening restaurants all over the world (Paris, Hong Kong, the Bahamas) and staging for six months at elBulli, he cycled through positions at his father's flagship. Finally, after three and a half years at Jean-Georges, he got the call. "I could finally express myself," says Vongerichten from the kitchen he's run for a little over two years.
While he's into the idea of taking over the empire ("I would really love to, though I might open my own restaurant"), Cedric stresses the importance of not taking short cuts. Also discussed on the eve of Father's Day? Bunny heads, grilling bass, and bouillabaisse in the country with dad.
When did you know you wanted to be a chef?
When Jean-Georges was working at Lafayette in New York City I was eight or nine and would play around in his kitchen—mostly with pastry like marzipan. Then we moved to France and ultimately decided to take it professionally. In France when you are 14 you have to make a choice. You can study further or become a professional I something. I turned to cooking at that point. I worked for Ducasse.
How is your cooking style similar to your father's?
The ingredients we use. I was born in Thailand, so I like to use a lot of ginger, lemongrass, kefir lime, and Thai chilies. We both use a lot of that stuff.
And how are you different?
I have a bit more of a modern approach. I wouldn't call him traditional, but he likes more straight forward dishes and flavors. I worked for six months at elBulli, so I learned a great deal there.
Is your father overly critical of you cooking?
Of course. Not only on my cooking, but on everything. When he comes into the restaurant he wants to make sure the cooking is perfect. He wants the restaurant to look clean. For the flowers to be beautiful. And I want that too. It's how I get better—to push myself every day.
How often is he checking on you?
Whenever I have a new dish I call him. He lives upstairs. We both slide down and he tries the dish. I want his feedback.
What was it like to walk into elBulli, day one as a stage?
It was insane. First of all it's in the middle of nowhere. And they give you a place to sleep, but it's so crowded. There were 30 of us there, working for free, from all over the world. And that first day I arrived I felt the intensity. It really was a kitchen that I had never seen before. There is no oven. No burners. It's a very minimalist kitchen. Everybody knew so much about food there.
Were you intimidated?
I was very intimidated. I had no idea what was going on. They speak Catalan, which is a mix between French and Spanish. I walk in and didn't know what I was getting into. They put me in a prep room, so I could see how the whole system worked.
What was the first task they had you complete?
Cleaning local stone crab. We had to clean it with a black light. The shells stood right out from the meat. I was like, wow. And it's a technique I use in our kitchen now. It's very efficient.
And then came the bunny heads…
One dish was made with the ears, the other with the brains. The head arrived with the fur, eyes and everything. We took off the ears and put them in boiling water to rid all the fur—so you end up with a really nice, white piece of cartilage. After you dry that for a couple of days you fry it and it ends up like shrimp crackers. We served it with half of the brain. It was a very fragile process. I liked it, actually.
That's just really…shocking. I'm sort of freaked out. I'm thinking "Indian Jones and the Temple of Doom" here.
Oh, with the monkey brains? You know, in France we eat brains. I remember my mother cooking it for me when I was 10 or 11. They're nice and creamy and delicious.
Do you guys take trips—the two of you?
The last one we did was the South of France. We took a trip to a city near Cannes. We had amazing bouillabaisse at a restaurant called Tattoo. With a little glass of rosé, it was just amazing. I guess everything we do is around food.
What are your Father's Day plans?
This weekend we are going to spend Father's Day upstate at his house. I'm going to bring my son also, he is five months old. I was thinking of taking care of the food.
What are you going to prepare?
He likes fish so I was thinking I would go to Union Square on Saturday morning. Pick up up some beautiful strawberries, sugar snap peas, and nice Jersey tomatoes. I'll bring it up that night and the next day grill some black sea bass and serve it with a nice tomato salad and sautéed broccoli rabe. It's Sunday, so we will keep it simple. We are relaxing.