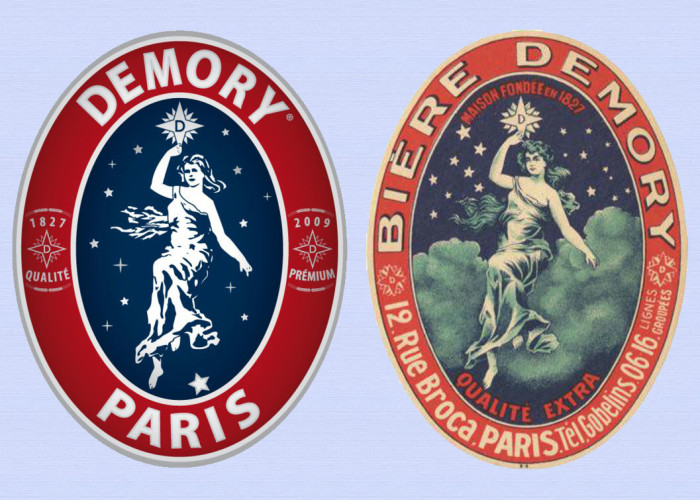 Bier braucht Heimat. The man who dreams of opening the first "real" micro-brewery in Paris takes his inspiration from this ancient piece of German beer wisdom. Roughly translated as "a beer needs a home," the saying sums up the panoply of regional beer styles in Germany but rings empty in today's Parisian beer landscape, dominated by foreign hordes from the North like Kronenbourg, Heineken and Stella Artois.
Kai Lorch, a 35-year old Bavarian transplant in Paris, plans to change this. He wants to build a Heimat for beer in the capital of the country with the lowest beer consumption in Europe. In fact, he has already started — by giving Parisians back their beer.
A few years ago he purchased the rights to the Demory brand, an emblem of Paris's rich past of local brews that disappeared in 1953. Lorch started brewing his own version in 2009 and today it is available in 90 bars, cafes, and restaurants throughout the city.
"We need to create a market first to show we are serious," explains Lorch, sitting in one of the many bars around the lively Aligre market that feature his beers. "It could take up to three years to secure commitments from the mayor's office and raise enough money, but I'm 99.9% sure our micro-brewery will be inside Paris."
He came to Paris in 2008 after working at a luxury watch company in Switzerland, where he honed his formidable marketing skills, seen on Demory's website and facebook page. An avid home brewer with a sharp business sense, Lorch decided to follow his passion and go professional. For now, Demory is brewed in the German town of Eshwege but Lorch hopes to repeat Brooklyn Brewery's success story, whose founders brewed in upstate New York before opening their Williamsburg brewery. And he's proud that the reincarnation of Paris's own beer is made across the Rhine — Demory labels state that it is brewed according to the Reinheitsgebot, Germany's strict beer purity laws.
"I can't hide my roots," Lorch says. "While most artisanal breweries in Northern France make top-fermenting Belgian-style ales, my Pilsner is a German-style bottom-fermenting brew, something that Paris is missing." His beers have already attracted a dedicated following in Paris. His signature beer is Astroblonde (4.8% Alc. Vol), a German Pilsner — crisp and bitter with nice malts that add a slight honey taste. Demory also has a wonderful Hefeweizen, Roquette Blanche (5.7% Alc. Vol).
Demory's label harks back to a different era. In 1890 there were more than 13,000 breweries in Northern France. Many villages had their own breweries. Demory, which was founded in 1827, was one of the Paris's most beloved beers; Jean-Paul Sartre and Simone de Beauvoir were regulars at the brewery on the Left Bank. After two World Wars wreaked havoc on the beer-producing region between France and Germany, most breweries eventually shut down, Demory included.
Today things are shaping up. There are about 250 breweries operating in France, according to the French Brewer's Association, with numerous artisanal breweries throughout the North, including in the Ile-de-France region around Paris.
Since the 1990s, Beer geek culture has experienced a micro-renaissance of sorts in Paris. Two young French beer enthusiasts have revived another Parisian beer, Gallia, which is brewed in the Czech Republic. Plenty of bars, brasseries, and restaurants feature fine Belgian ales. French artisanal beers are available at specialty shops like the Cave à bulles, and the Frogpubs brewpub chain is extremely popular with ex-pats and locals alike.
Yet Lorch still sees a gaping hole in the city's beer culture: a modern micro-brewery that can bring everyday Parisians together with beer aficionados. He dreams of a place that can reconcile Paris's glorious beer past with today's American craft-brew trends. Somewhere where bikers can drink alongside the bourgeois.
"We say in Germany that a city without its own soccer club and its own brewery is not a real city," he says. Well, it's up to him to prove that his adopted city is no girly-man.