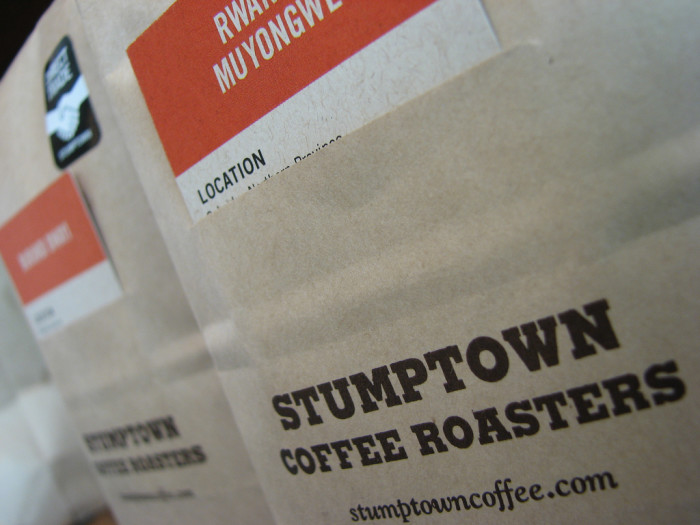 Small coffee is about to become big business. Late last week and through the weekend, details continued to emerge about the sale of Stumptown Coffee Roasters to TSG Consumer Partners, a private equity firm that has investments in dozens of companies, including Vitamin Water and Garden of Eatin' chips.
Stumptown founder Duane Sorenson has remained silent so far, but Portland newspaper Willamette Week reported that the formerly Oregon-based company became registered as Stumptown Coffee Corp. in Delaware on April 11. (Stumptown is a slang-y nickname for Portland, referring to its timber industry heyday.) So what happens next? Does this hipster coffee company become just another corporate-backed brand, just another — gulp — Starbucks?
Depends on who you ask. The guy who broke the news, Todd Carmichael, is one of Stumptown's competitors. Writing on esquire.com last week, Carmichael, the CEO of La Colombe Torrefaction, detailed how TSG reps had also contacted him and brands such as Intelligentsia about selling stakes in their fast-growing coffee brands. He then went on to write Stumptown's obituary; the story was titled "The End of Stumptown, America's Hippest Coffee Brand."
Of course, it's not the end of Stumptown, just of the indie ethos that was associated with it. Visitors to the bustling Stumptown café inside NYC's Ace Hotel often mingle and flirt with baristas decked out in flamboyant hats; at the downtown Portland location, it's harder to find a place to lock up a bike than it is to find street parking. This sort of corporate interest in emerging companies with cool stories is nothing new, and it's about to become more pervasive. I spent 20 minutes this weekend listening to a Motley Fool report advising to invest in the craft beer industry. Could the next Budweiser be Dogfish Head? Will Stumptown turn into Starbucks?
Probably not, if the investment company follows Stumptown's philosophy of expanding the consumer's knowledge of coffee and then offering tons of options. A manager at Stumptown in NYC told Food Republic that he left his job as a restaurant wine director to work for Sorenson after his first visit to one of Stumptown's Portland cafes. "I saw the shelf with 15 different varietals and tasting notes and a lightbulb went off," the manager said. "I was like, 'this is like a wine list.'"
If the investment company simply turns Stumptown into a cookie-cutter chain of cafés with a faux-hemian aesthetic and mediocre coffee, more indie-minded (for now) brands such as Carmichael's La Colombe and North Carolina's Counter Culture will undoubtedly fill the void.
Either way, you'll still be able to get a good cup of coffee.