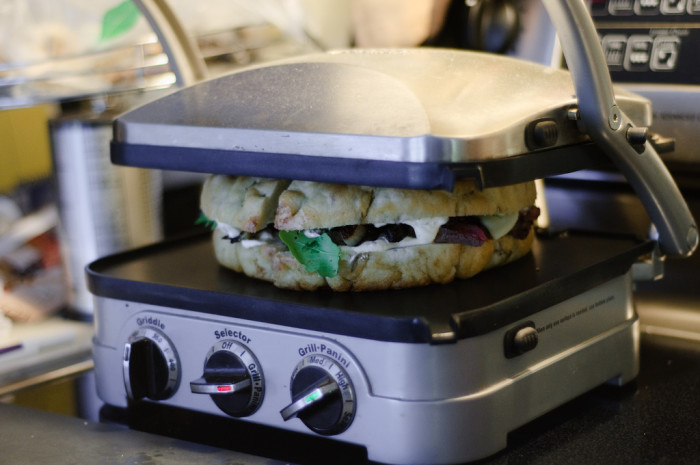 If you're short on space, a panini press is the perfect multi-tasker/appliance consolidator. These gadgets help you cut down on fat by eliminating the need for extra butter and oil, as most of them are non-stick, and will keep you grilling all winter long. They're perfect for transforming a quick weeknight sandwich into a hot, tasty meal or getting that quickly-ripening steak in the fridge cooked just right with minimal effort and cleanup. Plus, who likes cleaning a grill pan?
Best For Grilling
Delonghi Stainless Steel Retro Panini Maker, $60; newegg.com
For precision grillers (that's you), Delonghi's model features an adjustable temperature knob with actual temperatures instead of numbers. What do you mean you didn't know you cook chicken at heat level 7?
Best for Sandwiches
Breville Panini Duo, $70; chefscatalogue.com
Two sandwiches are better than one, and that's why we like this press. There's nothing worse than making sandwiches for two one at a time. His-n-hers fried egg sandwiches, anyone? The grill plates heat up super fast and thoroughly, providing crispy panini that's piping hot inside – plus it makes impressive grill marks for that fresh-from-the-café look.
Best Value
Cuisinart Griddler, $99.99; cuisinart.com
This press has four cooking options, opening up the possibilities for panini, grilled meat, and fish, even a whole griddled breakfast — sausage, eggs, waffles, you name it. This thing does it all. Its nonstick, removable plates are dishwasher-safe and heat up quickly for impatient sandwiches (or guests). We love the dual-temperature feature, which lets you griddle burgers on one plate and warm buns on the other.