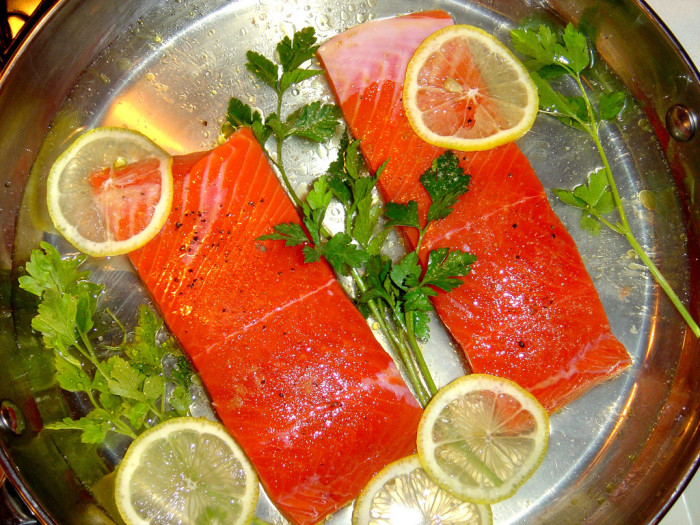 South-central Alaska is home to the Copper River, a 300-mile stretch where some of the finest (and priciest) salmon in the world can be found in abundance from mid-May to early September. The best specimens are caught right about now, before they head upstream and lose much of their tasty, heart-healthy body fat.
Imagine any kind of farm where animals aren't allowed to live free-range. Their muscles aren't as toned as their wild brethren, roaming willy-nilly about the plains. The same is true of fish, and explains why Atlantic salmon, more than 99% of which is farmed, is softer, lighter in color, and more delicate. Pacific salmon (more than 80% of which is wild-caught) boasts a noticeably firmer, almost tuna-like texture and a deep hue ranging from red-orange to crimson. Denser muscle tissue is darker — think chicken thighs versus breasts — and all that ocean swimming makes for some seriously supple flesh.
Alaskan fishermen in the Copper River region have been taking great pride in their work for over a century. We asked Christoper Nicolson, a 3rd-generation Bristol Bay salmon fisherman, to bring us up to speed on why your wallet feels so much lighter after purchasing a fillet or two of this particular poisson.
"A lot of salmon was originally farmed to be canned, and when the demand increased for higher-quality fish in fine dining, fresh Copper River salmon was marketed to chefs," Nicolson tells us.
As fresh salmon continued to gain popularity among diners, fishing methods improved to accommodate the need for premium product. Salmon farming was even outlawed in Alaska in 1990.
"Before, salmon fisherman would be careless, letting the fish drop on the deck and get bruised, kicking them around, because those were destined for the can and wouldn't really be seen," says Nicolson. "Now they're more careful, handling them properly, getting them in a hold with ice to keep them as fresh as possible. It's really not about the kind of fish you're catching, but how you handle them."
So besides being coddled by their captors and permitted to roam the open seas and rivers as nature intended, why the hefty price tag? Like most free-range beasts, wild Pacific salmon are prized for their higher-than-Atlantic Omega-3 oil and antioxidant content, are far more sustainable, and actually have to be caught. Shooting fish in a barrel, it is not.
"It makes no sense to terribly deplete one resource and totally ignore the fishery in your backyard," Nicolson says. To learn more about Copper River salmon fishermen, he recommends James Beard Award-winning author Barry Estabrook's piece for The Atlantic, as well as author and journalist Paul Greenberg's acclaimed book Four Fishes: The Future of the Last Wild Food.
Try your hand at cooking Pacific salmon tonight with one of these recipes. You just may impress someone.