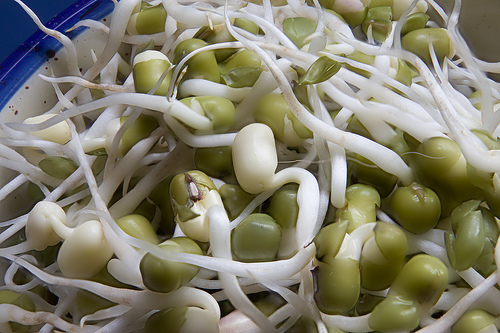 The deadly E. Coli strain that has spread terror through Europe over the last two weeks, killing 31 people and infecting nearly 3,000, has finally been linked to tainted bean sprouts in Germany. The news provides great relief for Europeans who are being told that raw lettuce, tomatoes, and cucumbers are safe to eat again. Russia agreed to lift its ban on European produce imports.
An article in Germany's online newspaper Der Spiegel stated that sprouts from an organic farm in the Uelzen district of Germany were the source of the breakout. It remains unclear how the bacteria became present at the farm and final verification of the source is still pending. The farm had delivered sprouts to restaurants where many people now infected had dined.
The New York Times reported that the bacteria was not found in any of the bean sprouts tested. Scientists concluded that the sprouts were to blame after interviews with patients revealed that those who had eaten sprouts were 9 times more likely to become ill than those who hadn't.
Reinhard Burger, head of the Robert Koch Institute, reminded the public that the outbreak is not over and that new cases may continue to develop. German officials noted that the tainted sprouts may have all been eaten or destroyed by this point, but a warning remains in place against consuming raw sprouts.