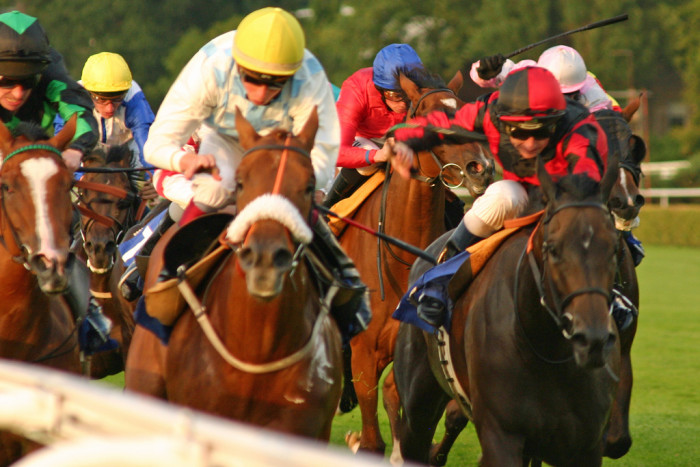 The NFL lockout might have players sitting on the sidelines, but you can still do a little training with your tailgate team. Please allow me to open your mind to the possibilities.
The Seersucker Season
With the 142nd running of the Belmont Stakes this weekend, the Triple Crown will be wrapped up. It's a shame, because that will mean the end of some prime alternative tailgates enjoying the serenity of country living and a traditional mint julep. Or does it?
Unbeknownst to most tailgaters, the horse race tailgate season is not just limited to the spring Triple Crown. The season stretches from March to November and includes races across the country. Although you can tailgate any race, some of the best tailgating can be found at steeplechase races, where oftentimes fans are allotted parking spaces around both sides of the rail.
Burgers and dogs take a backseat; wine, cheese, and fruit are the staples here, as well as cute "horse" d'oeuvres. Steeplechase races are run up and down the East Coast well into fall and include notable tailgate opportunities at racetracks like Aiken, South Carolina, The Pennsylvania Hunt Cup and The Plains, Virginia. For a complete list of Steeplechase races, visit the National Steeplechase Association Site.
One of my personal favorites is the Foxfield Steeplechase in Charlottesville, Virginia. Run twice a year in the fall and spring, more than 20,000 people show up in their finest seersucker, boater hats, and Laura Ashley dresses in an informal competition to show who has the most southern hospitality. I've had the opportunity to tailgate Foxfield, and one ingredient I never forget is mint ice, which I use to make mint juleps, iced tea, and lemonade.
The NASCAR tailgate
This is the only tailgate alternative that might be more complicated than NFL tailgates. While most NFL tailgates set up a couple hours before the game, some NASCAR fans set up their tailgate parties a of couple days before. More expensive? You betcha. But most NASCAR facilities have different tailgate areas designed to cater to different levels of fan commitment. Although originally considered a regional Southern attraction, NASCAR has blossomed into a nationwide sport with tailgate opportunities across the country. Some of the best NASCAR tailgates can now be found outside of the South. At Infineon Raceway in Sonoma, California, you can mix the best of California wine country with your tailgate cuisine.
Other notable non-Southern NASCAR tailgates include the Brickyard 400 in Indianapolis and the Pocono Racetrack in Pennsylvania. Any tailgate cuisine you serve will be a hit, but my friends still request the recipe for the Mexican-style grilled local corn I served at Bristol Motor Speedway in Virginia.
Your Family Events
Who says a kids' soccer game doesn't deserve a tailgate? Or that a family trip to the beach can't include a tailgate clambake? Any NFL professional tailgater sidelined by the lockout should consider these low-pressure, low-cost alternatives. It will give you a chance for a little experimentation and family time. My humble recommendation? What kid doesn't like a grilled pizza?