Dinner Party Beers: Delicious Stout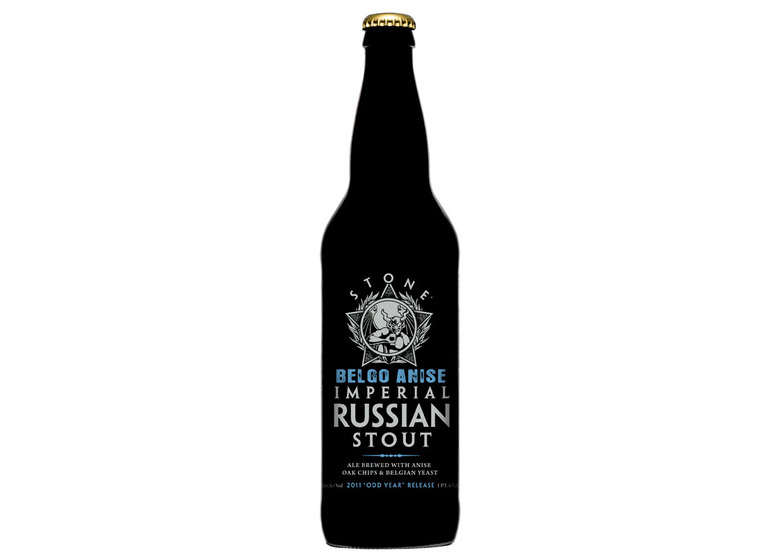 Stone's Imperial Russian Stout is a great beer, heavy as lead, and released — as a dare, apparently — in the heat of summer. Buy it now, and stash it in the fridge for a few months. It's a fireside sipper, not meant for warm-weather dining. Belgo Anise Imperial Russian Stout is a different story. Fire up the grill, and pour this one for dessert.
Stone's been brewing its Russian Stout for 11 years; its Old Guardian Barley Wine for 13. The brewery is busier than ever, announcing a new 18-acre farm, a new store, a new restaurant, a brewery expansion, and even a hotel. But the brewers, apparently, got a little bored with those old recipes. This year, they released regular versions of the stout and barleywine, and then, as part of their "odd beers for odd years" project, versions slightly tweaked. Both got a hit of their Belgian yeast (taste it in the Cali-Belgique IPA) and the stout, released this month, was spiced with star anise and oak chips.
Darkly roasted malts, when used right, whisper coffee, toast, raisins, chocolate. Used wrong, they're a smoke alarm shouting "something's burning!" Subtlety and complexity are not mutually exclusive. Here, the oak chips add a vanilla finish and the Belgian yeast emphasizes the stout's sweet, dark fruit. The anise makes the whole thing taste like black licorice. Which is why this beer is the perfect cap to a smoky barbecue—it's bracing but rich, sweet but dark, powerful enough to cut through the lingering charcoal smoke and hot sauce, but it acts nice doing it. Like its brother the Imperial Russian Stout, it'll age fine, if you keep it cool, but why put off dessert?
Serve it with: smoky barbecue, in a snifter, on the porch, watching the coals slowly fade to black.