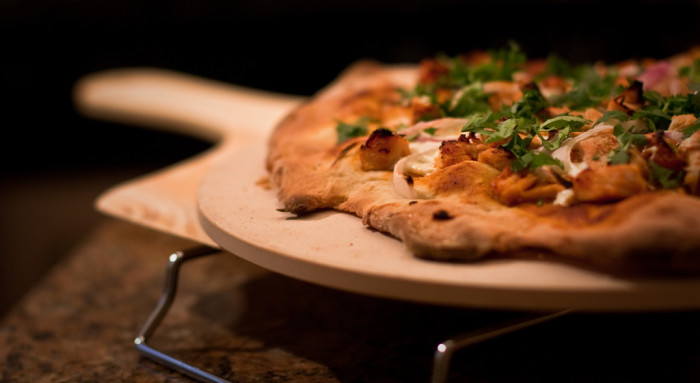 Always dreamed of a pizza covered in smoked provolone or nutty manchego? Can't find a place that'll top your pie with blue potatoes or BLT fixings? When you break out this gadget, you're setting yourself up for success — homemade pizza in the oven or on the grill is about as easy as it gets, and you're in the driver's seat. Buy pre-made dough or make your own and you've got a tasty blank canvas with endless possibilities.
There's a hefty variety of pizza stones on the market, so follow the instructions that come with yours for the right tips on how to clean and season it.
Best for beginners
Grilled Pizza Stone, $44.95; redskygrilling.com
Although designed to nestle perfectly in a 22½ charcoal kettle-style grill, the Grilled Pizza Stone will fit on your gas grill as well. Our favorite perk of this thick, sturdy tool: It comes with a hunk of natural pecan wood, which infuses pizza crust with a rich, smoky, and totally addictive flavor.
Most versatile
Emile Henry Pizza Stone, $50; EmileHenryUSA.com
This lightweight ceramic stone boasts quite the list of pros: It can be used in the oven or on the grill, heats up quickly, and, in case of mishap, has a 2-year warranty. Our favorite part about this shiny little gem is that its coat of glaze means it doesn't need to be seasoned, and you can cut right on it without fear of dulling your knife or scratching the stone's surface. Bonus points: It's dishwasher-safe.
Easiest to use
Weber 6430 Pizza Stone, $44.95; amazon.com
The most useful feature of Weber's pizza stone (besides a built-in endorsement from the grillmasters themselves) is stainless steel handles. Grill-to-table ready, it fits most Weber charcoal and all gas grills, which is great if you already have one. After seasoning a few times they're basically non-stick, so no worries about bubbling cheese spillover or a few errant pepperoni slices.
Best value
Williams Sonoma, $45; williams-sonoma.com
Sturdier and heavier than some models, Williams Sonoma's pizza stone comes highly recommended for DIY bread as well as pizza crust. The feet on the bottom of the stone ensure that those who "absentmindedly" place a 500-degree stone on a heat-sensitive countertop won't lose their security deposit, and a lifetime warranty protects you from all other potential misadventures.
More gadget picks on Food Republic: