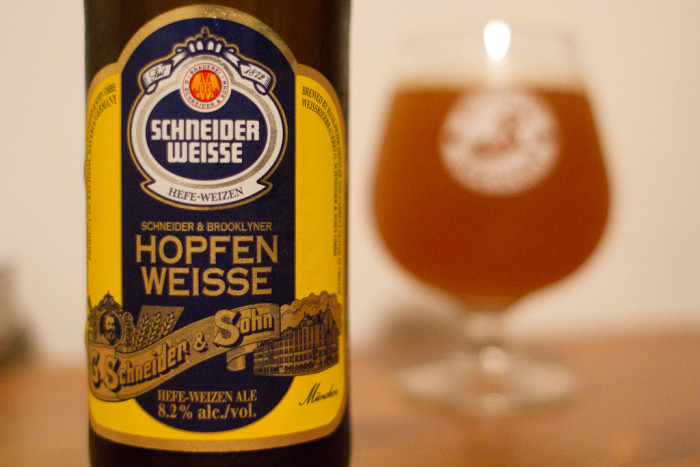 Summer has arrived as suddenly as a face slap, bringing with it sun, humidity, and this maddening question from bartenders: "Would you like a lemon with your wheat beer?"
As always, the answer is no. Whether you're drinking a spiced Belgian-style witbier such as Hoegaarden or Allagash White, or a cloudy, unfiltered hefeweizen hailing from Widmer Brothers or Weihenstephaner, adding citrus masquerades the beer's inherent flavors and aroma. This might benefit a skunked Corona, but for delicate, eminently sippable wheat beers, squeezing citrus is akin to coating filet mignon in ketchup.
In particular, my favorite wheat-focused brewery is Germany's G. Schneider & Sohn. Since its 1872 founding, the firm has focused on smooth, wheat-driven concoctions such as the clove– and nutmeg-nuanced Schneider Weisse Original; the bright and citrusy Wiesen Edel-Weisse; and Aventinus, a warming brew with notes of plums and dried raisins. These are flavors well suited to rich, hearty eats, a discovery I make at a recent dinner at New York's Jimmy's No. 43.
In this underground bar decked out with dark wood and antlers aplenty, Schneider chef Josef Nagler has commandeered the kitchen in order to craft a four-course feast featuring the union of wheat brews and Bavarian fare. Dinner started with a substitution: Instead of bull testicle carpaccio, diners instead received paper-thin veal topped by an arugula wig that's finished with sprightly vinaigrette incorporating Aventinus. The light, delicate starter was served alongside Schneider Weisse, with clove notes that echoed the salad dressing.
Next came a silky, creamy soup flavored with leeks and loads of Schneider. The broth's yeasty tang balanced the butter and heavy cream, which was also cut by a glass of generously hopped, low-carbonation Edel-Weisse—a beautiful beer I could happily spend a lazy Sunday sipping. The main course welcomed pork medallions painted in garlic cream, then served atop beer-infused spaetzle. Its wheaty, boozy undercurrent was partnered with a hefty pour of Aventinus, a beer seemingly tailor-made to match with meat.
By now, I was bloated, my belly bursting with Bavarian eats and beer. But turning down dessert was out of the question. The final dish was a parfait fashioned with Aventinus Eisbock, a potent, concentrated version of Aventinus devised by freezing the beer, removing the ice, and leaving sweet, sweet booze behind. While the dessert was only so-so, I couldn't stop sipping the Eisbock. Belly warming and boasting an aroma of plums, Eisbock was a delicious digestif, an elixir worthy of a snifter and a few hours of your time.
I pushed the parfait aside and grabbed my glass of eisbock. This was all the dessert I needed.