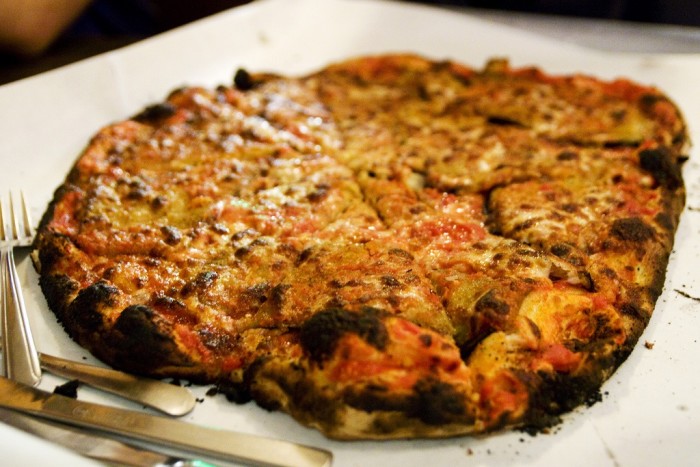 This week's pizza of the week takes us to New Haven, Connecticut, a damn fine pizza town with several traditional pizzerias to choose from. Salvatore Consiglio learned the pizza making trade as a teenager while working at his uncle Frank Pepe's nearby iconic pizzeria. Sally began serving his thin-crusted coal-oven pizzas at his own place in 1938, and Sally's Apizza is still run by his widow and children to this day.
When you go to Sally's Apizza, there will be a long wait — maybe a very long wait — to get inside the joint. Once you are inside, expect to wait almost as long to actually get your pizza. And be prepared for the staff not to care one bit that you are waiting. Really, they honestly don't care. Not one bit. They also might serve some locals before you, even after you have waited. There is no recourse, so just go with it. While you are waiting you may want to ponder why it is, like Seinfeld and his soup guy, we are willing to put up with indifferent or even antagonistic service for a coveted food. Who knows?
It's not that the folks at Sally's are mean or rude. Or not completely deliberately rude. They just consider their job to be about bringing you your pizza, not making you happy. It's the pizza's job to make you happy. And when it finally arrives, it does a damn fine job of it.
It's all about that coal-fired crust. It's slightly crispy, kind of chewy, just the right amount of puffy and totally delicious. The tomato pies are just that — crispy crusts, tangy tomatoes, a little garlic and fresh herbs, no cheese. It you happen to snag a coveted booth in the summer, the tomatoes will be fresh and local, and lightly topped with slices of fresh mozzarella and bacon.
---
Have you had the pizza at Sally's Apizza? Worth the wait or entirely overrated? Let us know what you think in the comments.