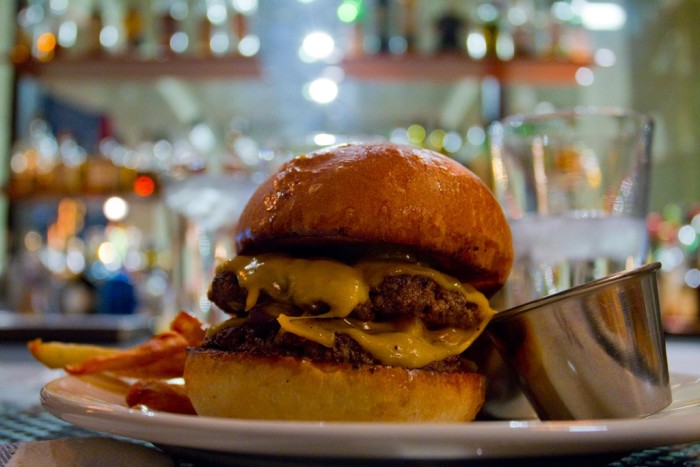 On a recent trip to Atlanta we experienced the burger at the cozy gastropub Holeman & Finch.
The burger is not listed anywhere on the menu, but it's hardly a secret. At 10pm each night, the squawk of a bullhorn announces over the roar of the crowd: "It's burger time!" The crowd goes wild as everyone scrambles to order one of the 24 coveted burgers that the kitchen prepares each night. They have been known to go in less than a minute. How could we not check this out as a potential burger of the week?
The limited number isn't a marketing ploy or gimmick. Chef Linton Hopkins feels that great handcrafted burgers need time and care to prepare. And since the burger tends to steal the show, its limited availability means that patrons have time to try out the rest of the menu, including deviled eggs three ways, pork belly buns, fried oysters, and steak tartare.
Can any burger be worth this amount of hype? In a word, yes. The double-patty grass-fed beef burgers are served on house-made, unsweetened, buttery brioche buns and topped with house-made ketchup, mustard, and bread-and-butter pickles. The burger is only served medium well, but it's perfectly juicy and just salty enough to provoke a smile. Topped with American cheese and red onions, the burger is best eaten flipped upside down to keep the juices from soaking through the bottom bun. If you can't get one of the coveted 24 burgers, the odds are better at Sunday brunch, when 72 burgers are made.
---
Have you tried the Holeman & Finch burger? Let us know if you thought it was worth the drama in the comments.