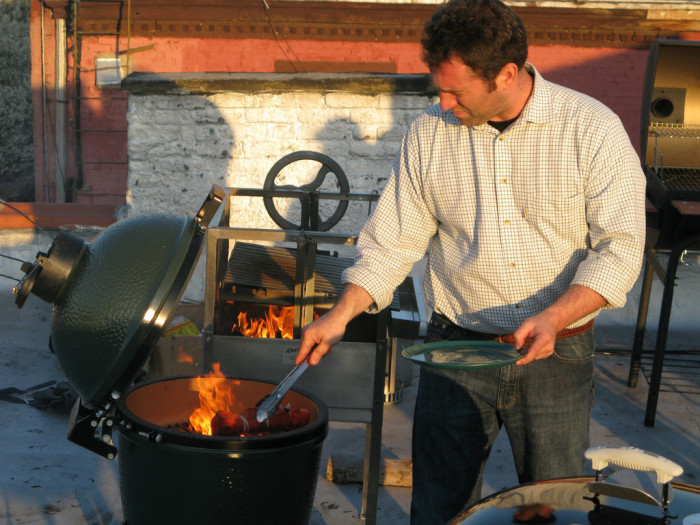 Adam Perry Lang's a busy guy these days, jet-setting back and forth across the Atlantic to tend to his various ventures. The classically trained chef and NYC-bred founder of Daisy May's BBQ is a consulting partner in Mario Batali's meat-centric Vegas outpost CarneVino, a partner with Jamie Oliver in Barbecoa in London, a co-founder and owner of The Original Moonshine clear-corn whiskey, and a BBQ and pit-cooking expert who often takes the time to dole out grilling advice to folks like us.
Before he answered the call for how long to apply marinades to your meat, Lang pointed out that for a lot of guys, the barbecue area is a place to have fun (unlike the kitchen, where women will insist you keep things neat and tidy). "It's the one place we can make a mess," he says, "because you can take a hose to it after you're done." Amen, brother.
Adam Perry Lang's 3 Basic Marinade Rules (and a word on BBQ sauce)
"The best time to put on a marinade depends on the meat," says Lang. Lang is, of course, an advocate of marinades, which can add flavor to chicken, pork, beef, and fish.
As such, he divides marinating tips into 3 basic categories, generally speaking, which are great to keep in mind so you can time how long to marinate whatever meat you're planning to grill:
White meats should marinate for 3 hours or less. The acid in a marinade, like a vinegar, "denatures" proteins, so items like a chicken breast will begin to literally cook while they're sealed in a plastic bag with a marinade. Lang suggests tilting the white meat marinade ratio in favor of oil, which is gentler on proteins.
Beef can marinate for up to 6 hours. Beef can withstand longer marinating times, especially thicker cuts. For thinner cuts like a skirt steak, you'll want to reduce the time you spend marinating, or even try a dry rub.
Fish should only be marinated for 30 minutes or less. "Fish protein is different than meat protein," Lang notes. "It's delicate, and susceptible to being burned." In other words, there's a fine line between a fish marinade and a ceviche, so as with white meats, it's best to err on the side of oil over acid.
A word on BBQ sauce: "BBQ sauce is a finished sauce; it's a ready-to-eat product," Lang says. Which means that as a rule, you'd generally only apply a BBQ sauce after the meat is cooked. That said, "There is a time when you can use BBQ sauce to cook," Lang says intriguingly.
If you add water to a prepared BBQ sauce before you apply it to the meat, the water will evaporate and the sauce will reduce down and cling to the meat. (Conversely, if you add the sauce to the meat without water while cooking, the sauce will reduce down to a goopy sauce that will pretty much ruin your meat).
Lang suggests using the water-to-sauce method when cooking ribs, because, he suggests, "Who doesn't love spicy, sweet, sticky BBQ sauce on ribs?"