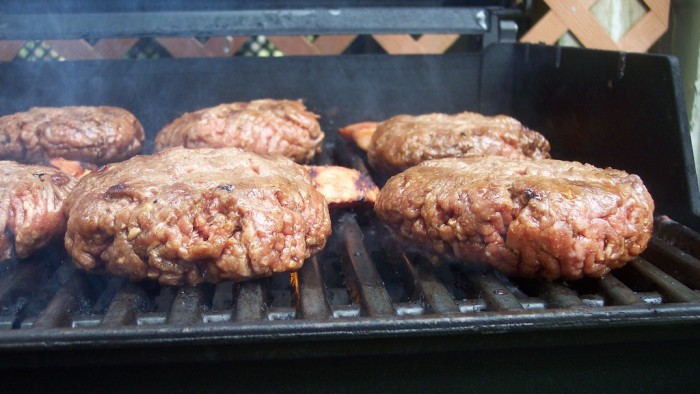 It's that time. Time to gaze longingly at your backyard or terrace and envision the grill of your dreams. Is it the type of BBQ that you fill with coal and set ablaze, or does it fire up with a click of a button and the turn of a knob?
That's the debate before us today as we ponder the pros and cons of Gas vs. Charcoal:
Gas Grills
Speed and Precision. Hands down, the best qualities of a gas grill are quickness and control. Fueled by natural gas or liquid propane, gas grills are basically like outdoor versions of your indoor oven. One big benefit of a gas grill is that it reaches peak grilling temperature in 10 minutes or less. And you can control the flames with a turn of a knob, just like on your stovetop, allowing for more precise cooking temperature control.
Multi-burner grills allow you to cook different foods at different temperatures. It's also the method of choice if you plan to be making things like whole chickens, vegetables, or pizza, which are more about cooking at consistent heat than getting a char.
Spanning the seasons: If you plan to grill every meal from Memorial Day through Labor Day, the quick start-up time of a gas grill means that you can get a grilled weeknight dinner going in about the same time it would take you to microwave a burrito.
Gas grills can be tricked out and customized to include burners, side smokers, sinks, and cabinet space. Which also makes them much costlier. Gas grills start at about $150, but can go well into the thousands.
But no matter how cool a gas grill can get, some grilling die-hards can only get off on the heat of old-fashioned charcoal.
Charcoal Grills
Charcoal is wood that has been burned to remove all the water and resins, making it pure fuel. Charcoal is prized by grill enthusiasts for its ability to reach high temperatures with less smoke than is emitted by wood.
This heat — charcoal grills easily reach 500 degrees F — is what you need to get a good char and keep steaks, burgers, and lamb crisp outside while remaining pink and moist inside. The smoke and radiant heat of charcoal grills infuse food with the flavor that we associate with grilled food. And the radiant heat makes charcoal grills more practical than gas for meats that you want to cook long and slow. Barbeque pitmasters swear by charcoal.
It takes practice to get as much control with charcoal as you can get with gas, but the rewards are worth it.
Charcoal is also less of an initial investment. You can start off with a $20 grill, while fancier models top out at about $500.
---
Are you a gas loyalist or a charcoal die-hard? Let us know in the comments.