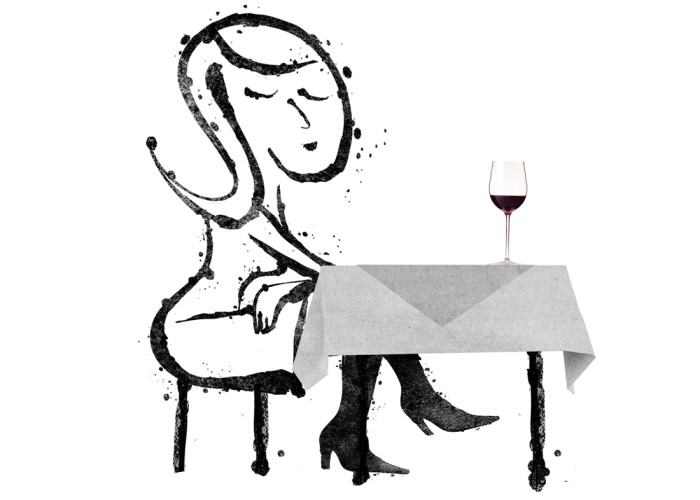 It's been said that there are more restaurants per capita in Dallas than anywhere else in the United States, New York City included. Leslie Brenner—an L.A. native who previously edited the Los Angeles Times food section—is the woman tasked with keeping the scene in check as Restaurant Critic and Dining Editor at the Dallas Morning News.
It certainly hasn't been an easy job, particularly for an outsider confident enough to write things like "Tex-Mex is not Dallas' strong suit." Zing! Google Brenner's name and an early result is the Chowhound thread: Leslie Brenner: Overrated? Nonetheless, Brenner has remained optimistic about her adopted hometown. Over the course of our conversation, she repeatedly praised the direction the scene has taken. And also told us how to blow your paycheck in Dallas on soba and bone-in ribeyes.
Why move to Dallas?
I moved to Dallas to take this job after telling my husband, several years ago, that I would never, ever, ever, ever, ever, be a restaurant critic. It's so physically hard. But this opportunity came up and I jumped at it. It was suddenly something that I really wanted to do.
You've been on the job over two years now. Has it delivered on what it promised?
One of the reasons I was attracted to it is because there are so many restaurants in Dallas. I was amazed. I would drive around these neighborhoods that I didn't know and it seemed like everything was a restaurant bursting with people. The scene felt so vibrant.
Name a cuisine that has come into its own over the past couple years…
There are a million Tex-Mex restaurants here and I happen to not be a huge fan of Tex-Mex in general. I've never felt like it was one of Dallas' strengths. But lately we've had a couple restaurants open that have excelled with modern-Mexican cooking. Specifically, this restaurant that recently opened called Alma from chef Michael Brown. It's something we haven't seen too much here. It's really stylish, creative Mexican cooking. It's fantastic.
Tex-Mex can really bum me out sometimes—with the slathering of sour cream and lettuce on tacos. And all those refried beans.
I come from Southern California which has some of the best stuff you can eat—it's so regional with all the Oaxacan places and so fresh. Tex-Mex is a kind of comfort food and people here love it. It just doesn't speak to me.
And when you write a line like "Tex-Mex is not Dallas' strong suit" people tend to freak out…
Oh my goodness!
Do you read the comments on blogs?
Of course.
I'm glad you can admit that, because many cannot.
I read everything! But what I don't read is what bloggers or commenters have to say about a particular restaurant until I have written my review.
Are there any memorable bad names people have called you?
I think there are people who misunderstand me. People think that I am critical of the scene in general, and it's almost like they have missed some big chapters. I am very critical and I have some pretty high standards for restaurants to live by. I hear all the time from restaurateurs and waiters from restaurants I have reviewed that it meant a lot to them and that they have learned from it and rise to the occasion. I think the town has made some amazing progress. The changes have been pretty astounding.
What should diners outside of Dallas know about the scene there?
A Texas-style of cooking—fresh and local—that goes beyond the farm-to-table movement. It involves wood-smoked barbecue. The restaurant that comes to mind that really nails this is called Smoke. It's a really funky restaurant in Oak Cliff from chef Tim Byres. He's growing a lot of the vegetables in the garden there. He's making ricotta and smoking that. Smoking fish. Smoking everything. It's all very handcrafted. He's making all his own breads. He's doing a cabrito in masa. It feels very Texas.
Does Dallas barbecue rival the barbecue within and outside of Austin?
No (laughing). No. I mean, anybody who is really interested in barbecue will go to the Lockhart. You can get really good barbecue ribs in Dallas, but I've never found brisket that has even approached the Hill Country. [Note: After our interview, Brenner reviewed a restaurant called Lockhart, styled after the great Central Texas beef barbecue joints. She was not impressed, and neither was the restaurant, in what has become an infamous incident.]
And what about steak. Dallas loves steak!
It's the best city in the country for steak. They get the details right. The steakhouse is an art form here.
I'm in town for 48 hours. My bank account is full. Go…
I'd send them to Tei-An, Teiichi Sakurai's amazing soba house. He has a really creative take on Japanese cooking and has spawned this community of really interesting Japanese restaurants. You can go from the simplest bowl of soba to an elaborate long-braised pork belly or white seaweed salad. I would send somebody to Luchia, which is a really wonderful Italian place in Oak Cliff Bishop Arts District. It's probably the best Italian restaurant in Dallas at the moment. Wonderful creativity. On the cocktail front, there's a really fun place called Cedar Social in a really up-and-coming neighborhood.
How do you stay anonymous? Is there a photo of you floating around?
There is an ancient photo of me floating around—an author photo from one of my books. I have a set of credit cards with different names, but I don't really use them that often. I feel I'm starting to be recognized more—since I've been here awhile. Sometimes I feel, if they recognized me, at least they don't know I'm coming.
Do you wear wigs?
I've tried the costumes in the past, but I'm sort of over that. It just looks like a crazy person in a crazy getup.
Does getting "made" at a restaurant change what you're going to write?
I think it often changes the service, so that is frustrating. But even when I'm recognized I can generally get half of a meal in. It makes it less pleasant to dine if I am recognized. Servers are constantly interrupting your conversation asking if everything is OK. But I haven't found that it gets in the way of assessing a restaurant.
And they can't change their menu…
They can't change their menu and there's a lot they can't change about the service. They are still making these service mistakes, even when they know who I am. You have to know how to provide top-notch service.
How do you avoid gaining weight?
When I came to Dallas I put on quite a bit of weight—even though I was exercising every single day. I then, finally, decided I needed to do something. It was not OK and I needed to lose 20 pounds. So I invented a diet called the restaurant critics diet. I blogged about it.
Who are some critics and food writers you respect around the country?
I love Sherry Virbila at the LA Times, but obviously she's a friend. I think Sam Sifton [of The New York Times] is doing a really great job. I love reading his reviews.
Why do you like Sam Sifton?
I think one of the things he does really well is conveying what the feeling is when dining at a particular restaurant. That is really not easy to do.
And Virbila was just outed by an LA restaurant owner. How did that make you feel?
It was horrible! I talked to her afterwards and she said it felt like an assault. I think it was outrageous and I didn't like the fact that Eater put it up there. I thought it was horrible.
Why did the restaurant owner do that?
It speaks to this idea of "who needs critics" when you have Yelp and bloggers. I obviously have strong feelings about this because it's my profession. But there is so much training that goes into it. And the ethics are so important too. I do think we need critics. Critics of all kind. What Joe Shmoe thinks is not that interesting.
What is your training?
I freelanced for 15 years before the LA Times recruited me. I went to graduate school for fiction writing at Columbia, which I think is part of my resume. Crafting a narrative is important. So I started writing about food and wine for magazines and then I started writing books about food and wine. I've written five or six books about recipes and culinary history. I've been soaking in it forever. I'm a self-taught cook, but I've studied with different people. One of the books I did was called the 4th Star—where I spent a year behind the scenes at Daniel. I learned a tremendous amount then.
Is knowing how to cook important?
I know there are critics who don't think it's important, but I think it is. To taste a sauce or look at the way something is prepared—you have to know how they did it. When I was running the LA Times food section, we had this amazing test kitchen. All of that fed into me as a critic.
If you could review restaurants in another city in the world, where would it be?
San Francisco would be really fun. Chicago could be really interesting. San Francisco is an ever-evolving scene. I love the product there. The people who live there care so much about food. But I really love being in Dallas now. I feel really privileged.