There Are Cool Kids Running Coolhaus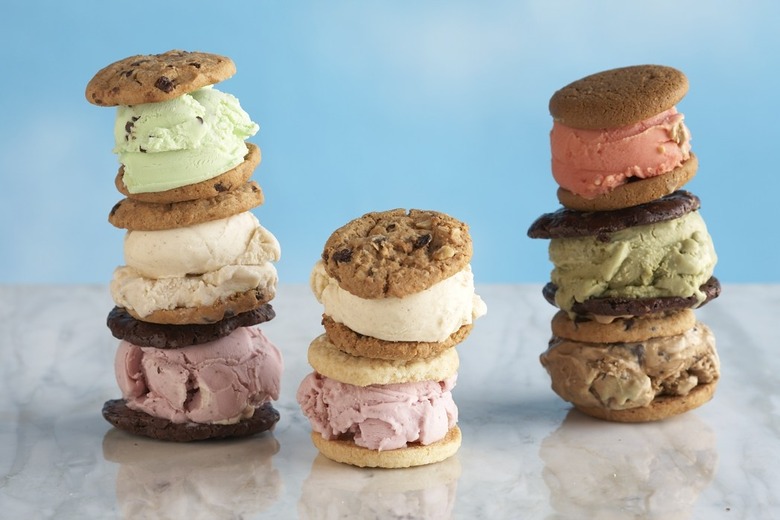 It was a blessing in disguise when Natasha Case was laid off from her job as an architect back in 2009. A blessing, specifically, for those of us who relish the moment when cream, eggs, and ice collide between two cookie layers. We cannot deny the power of the summertime supernova that is the ice cream sandwich and Case—along with her partner Freya Estreller—make some pretty damn good ones.
The company, christened Coolhaus, sells build-your-own and "pre-fab" ice cream sandwich in carts parked on the streets of Los Angeles, New York, and Austin, Texas. There's a brick-and-mortar location planned in Culver City and distribution deals locked with Whole Foods and several specialty stores and restaurants throughout the country.
Ice cream fans can pick between dozens of flavors (which rotate often) including chocolate chipotle, mango sticky rice, carrot cake batter, and wasabi. They are then paired with the cookie of your choice, like chocolate chip, peanut butter, and ginger molasses. There's also a line of pre-made combinations called pre-fabs named after famous architects like Richard Meier and Mia Lehrer.
We caught up with Estreller to talk about a humble beginning, catering Justin Bieber's birthday bash, and a combination so horrible, it made us even gag a little.
You're basically taking over the world...

We have three trucks in LA, two trucks in Austin, and two trucks in New York City. We make our own ice cream and cookies and everything is all natural, handmade, and organic whenever possible.
So Coolhaus started after your partner Natasha was laid off as an architect?
Coolhaus actually has academic roots and was born out of Natasha's UCLA architecture grad school thesis on Farchitecture (food + architecture). [Edit: What? College is cool now.] She started making ice cream sandwiches and naming them after architects in late 2008. We met at that time and by February 2009 we had purchased a postal truck for $2,900 on Craigslist which we renovated into an ice cream truck. Yes, people thought it was crazy, but we thought what better way to get our wacky product out there than to reinvent and modernize the ice cream truck.
Growing up, were you fond of ice cream? What were your favorite flavors and ice cream sandwich brands?
Who didn't like ice cream as a kid!? My favorite was Cherry Garcia. And I'd say we've definitely had our fix of Klondike.
What was the initial response to your style of ice cream and the choose your own adventure model?
People love it. I mean, you get to custom "design" your own ice cream sandwich. How fun is that?
I can imagine people having a hard time making a decision on which combination to go with.
Yes, there can be a lot of sampling involved. We tell them to go with their gut.
What's your most-popular combination?
Probably the double chocolate cookie and dirty mint ice cream (real mint leaves with a touch of brown sugar) and the chocolate chip cookie and brown butter and candied bacon ice cream. It's for the adventurous. Jeffrey Steingarten (we love you!) is a fan of the pistachio black truffle ice cream on brioche cookies.
You must have had a combination not work...
We did a Waldorf salad ice cream once (blue cheese base with candied apples and toasted walnuts). It probably would have been best as a small dollop next to a steak!
I found your sandwiches at Brucie in South Brooklyn. How did you secure distribution in NYC? How many stores are you selling to—and where?
We take a very hands-on approach to our restaurant, cafe and grocery accounts. We just find places we're interested in and drop on by (with samples of course!) As for more wholesale accounts, we're going to have a freezer at Habana Outpost this summer and are also in talks with Whole Foods New York.
And you're hired for a lot of special events...
We've done everything from catering Justin Bieber's birthday to bringing the truck to having the truck bought out and sponsored by Mozilla Firefox. [They were also at Coachella.] We gave away free Mozilla themed ice cream sandwiches in custom Mozilla edible wrappers for four days in the three cities we're in.
Can I hire you to serve at my party?
Of course! We'll make a custom ice cream and name a sandwich after you. How about the Matt Rocky Rodbard?
Wow, rock! Any other food truck concepts you are kicking around?
We're obsessed with glow in the dark and magnets....