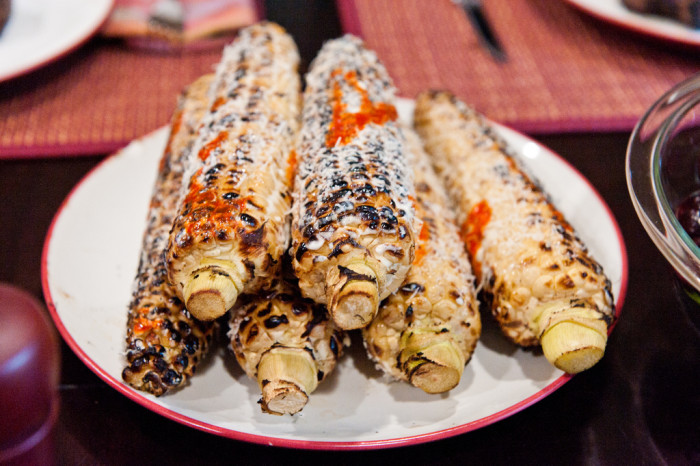 Don't let your main dish hog all the attention. Letting side dishes shine is as easy as having a sister who looks like Pippa Middleton or getting inspiration from this can't-miss list. Each of these straightforward but scrumptious classics goes with pretty much anything, and could actually steal the show on its own.
Shaved summer squashes with fresh mint and ricotta: Remove squash ends and slice squash lengthwise very, very thinly (use a mandoline if you have one), toss with a shake of olive oil, crunchy sea salt, black pepper, a few spoonfuls of fresh ricotta, and torn mint leaves. Make this every chance you have this summer…people will become addicted and start demanding it.
Fideos with grilled vegetables: Fideos are a thin, short Spanish pasta. Toast about 2 cups of them in 2 tablespoons olive oil in a big skillet. The toasting is key. Once the noodles are golden brown, slowly add just enough chicken or veggie stock for the fideos to absorb and grow tender. Toss in bite-sized pieces of grilled onion, pepper, squash, eggplant — give new life to yesterday's or lunch's leftovers.
Boiled new potatoes with fresh parsley and mint: So sweet and simple; the mint makes it. Toss the cooked little guys with very good butter, sea salt, and roughly torn flat parsley and mint leaves.
Green beans and peas with bacon vinaigrette à la KCP: Cook 4 slices bacon til crisp; use some of the drippings in place of some of the olive oil in making a vinaigrette with balsamic vinegar, add a smidge of mustard if you want, and salt, pepper and fresh parsley. Clean fresh peas and green beans (cut in half if unruly), toss generously with vinaigrette, crumble bacon. (Make this ahead so the veggies almost pickle.)
Mexican corn the easiest way: Shuck corn. Set each ear on a square of aluminum foil. Brush with mayonnaise, sprinkle with chili powder, crumbled cojita cheese (if you can easily grab it, if not, skip it), and the juice of half a lime. Wrap up into bundle, place on grill, cook for about 30 minutes (rotate and check doneness after 12-15), and depending on your guests, maybe slice kernels off the cob to prevent awkward tooth issues.
Roasted tomatoes, the workhorse: Roasted tomatoes are easy to prepare, and they make everything else you're serving even more mouth-watering. In summer of course you could do this in a sturdy metal pan on the grill.
---
Send your questions to askdannielle@foodrepublic.com or post them in the comments.