How To Help: Japanese Tsunami Victims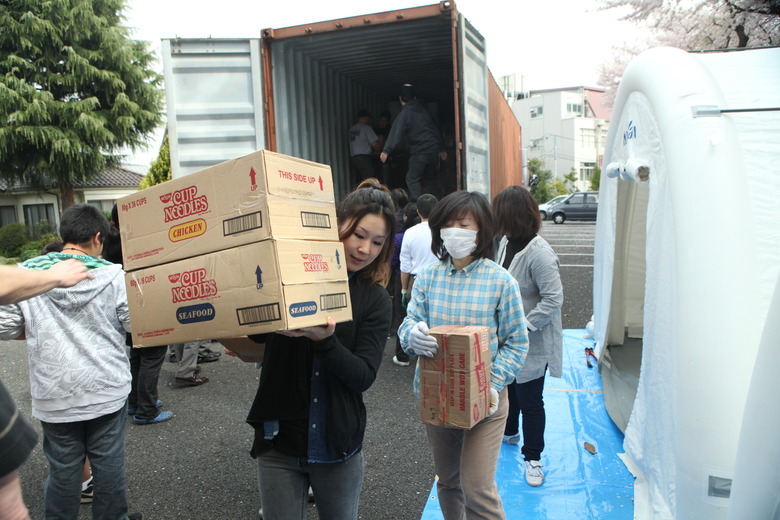 Convoy of Hope food aid Japan
Japan's March 11 earthquake and tsunami has left many survivors in buildings without food, running water, or heat. As of late April, 130,000 people were still living in evacuation centers and thousands who had fled to the cities were still living in large arenas separated by cardboard boxes. Many faced health challenges due to poor nutrition and insufficient facilities.
Among the various non-profit organizations that have been quick to respond to the disaster, Convoy of Hope has played a large role in ongoing food distribution for disaster relief. Their response teams were deployed to Japan in the weeks following the catastrophes, with tens of thousands of 40-foot-long containers, each filled with emergency supplies including nutritious meals, water, powdered milk, first-aid, and hygiene supplies.
Established in 1994, Convoy of Hope has served over 42 million people in over 100 countries through immediate disaster response and food programs, delivering more than $227 million worth of food and supplies to people in need. As a "first response" organization for disaster relief, Convoy of Hope deploys a fleet of tractor trailers, constructs a 300,000 square foot warehouse with a technologically advanced Mobile Command Center and a scalable distribution model to promptly advance resources and emergency assistance for disaster victims on a global scale. The organization was among the first humanitarian aid groups that distributed food throughout Haiti following the 7.0 magnitude earthquake that hit the country on January 12, 2010.
Over the last two months, Convoy of Hope's disaster responders have been traveling to displaced persons camps along the hardest hit areas of Japan to make needs assessments and to supply the most vulnerable victims with necessities. The organization has made a one-year commitment to several cities throughout Japan and is currently working to build warehouse shelters for affected people and set up distribution centers to bring food, clean water, and supplies to families, including kitchen sets and household items, as a means to rebuild their lives.
The catastrophic events in Japan occurred two months ago, but the needs of those displaced are still great. You can help the people of Japan get the necessary food and supplies by donating online at convoyofhope.org or by texting TSUNAMI to 50555 to donate $10 to Convoy of Hope's Disaster Response efforts.
There are other ways to help. The culinary and cocktail worlds are involved with fundraising for disaster relief, especially those with ties to Japan. Oregon-based craft sake distillers SakeOne hae been holding frequent fundraisers, and tomorrow, Wednesday May 18, Iron Chef Masaharu Morimoto is hosting Chefs Cook for Japan at the Harvard Club in NYC. The fundraising dinner will feature New York chefs Daniel Boulud, Jonathan Waxman, Anita Lo, and Food Republic co-founder Marcus Samuelsson cooking for the cause alongside Ken Orringer from Clio in Boston and Jose Garces of Amada in Philly. 100 percent of the proceeds from the dinner are going to The Japan Society's Earthquake Relief Fund.