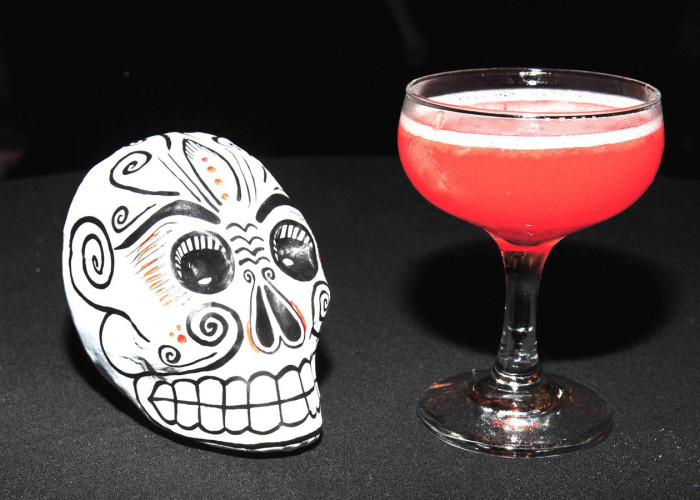 What: Dia de los Muertos-inspired party in an actual, un-living cemetery in New York's East Village.
Where: New York City Marble Cemetery
When: May 16, 2011
Food: Carne asada, chicken and vegetarian tacos. We were there mostly for the drinks.
Drink: Five cocktails were served, mixed by Giuseppe Gonzalez of NYC's Painkiller and Aaron Smith of San Francisco's 15 Romolo.
Party: Ever since the fine people at Espolón sent me a bottle of their mellow, highly drinkable reposado a couple months back I've been nipping by way through it. The bottle—born in the Jalisco Highlands—sits at my desk, which I realize is sort of obnoxiously Mad Men of me. It also speaks to how good this stuff is. As part of the weeklong Manhattan Cocktail Classic, this Day of the Dead-styled cocktail party was thrown in a tent set up on the lawn of the New York City Marble Cemetery. Organizers said it was one of only two yearly events held in the dramatic setting. We're thinking that the other was a goth wedding.
But onto the drinks! Giuseppe Gonzalez is a modern master at the art of mixology, having honed his skills at Clover Club, Dutch Kills, and, more recently, downtown tiki temple Painkiller. His Diablo, sort of a Buck gone south of the border, featured reposado, crème de cassis, lime juice, ginger syrup, and a soda topper. The crew from 15 Romolo, a favorite bar of Espolón's San Franciso-based brand manager K.K. Lewis, went complex with a blend of blanco tequila, vinegar/agave gastric, and lemon juice. A sprig of fennel garnished for added aromatics (the drink was served in a wine glass). The Daily Show's John Oliver was there too. A tequila man. A good man.
Verdict: With soaking rains hitting NYC for much of the day, organizers were understandably worried about a washout. But when I arrived at 8:30 pm the sprinkles had morphed into a fog, which couldn't have been better for a brand known for their skeleton packaging throwing a party in a cemetery. I liked basically all of the drinks, including a really refreshing Paloma made with grapefruit soda — dangerously, it was passed around on trays. There was a band too, called Chappo. Near the end of the party a couple random guys joined in for an acoustic jam. Didn't sound so bad. Tequila makes all things better.