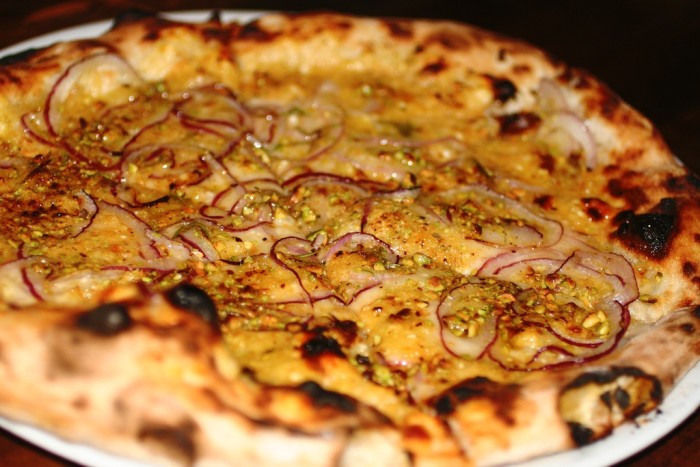 You may think that putting pistachios on a pizza is a little nuts. But we are here to tell you that you would be wrong. So very wrong. Pizzeria Bianco in Phoenix has garnered national attention for its super-thin, perfectly chewy, yet still crispy charred crusts that come out of the wood-burning oven. But it's the toppings that have pushed into pizza of the week territory here at Food Republic.
Pizzeria Bianco only takes reservations for large groups, so either come in a hungry horde or be prepared to wait up to two hours to gain entrance. The tiny dining room seats only about 40 pizza-loving patrons at a time. But you can seek shelter in the little house next door which has been transformed into a bar/waiting area called Bar Bianca.
All your waiting is rewarded once the pies arrive at your table. The perfect and simple Margherita, the cheeseless Marinara, the Wiseguy scattered with wood-oven-roasted onions and smoked mozzarella. The Biancoverde with clumps of fresh ricotta and the bite of arugula. But our favorite involves those nuts. The Rosa pizza has some sour bite to it from red onions, smoothness from the Parmigiano Reggiano, earthiness from rosemary, and then salty depths from the AZ pistachios.
---
Got an candidate for pizza of the week? Let us know in the comments.