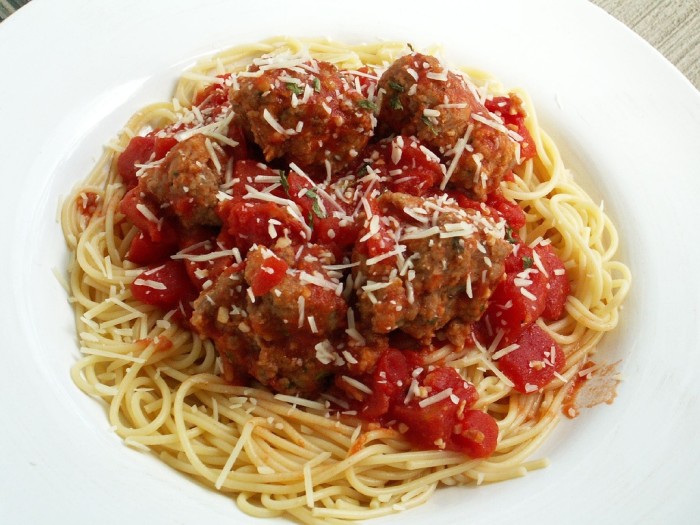 Sometimes, the best food and wine pairings have more to do with emotion and memory than they do a strict balance of flavor, aroma, and texture. Contrary to what so many of the books on the subject will tell you, context is often the major influencing factor in a pairing's success.
At my recent family birthday dinner at my parents house I experienced a series of great pairings that were remarkable for both of these reasons.
My Dad, a dedicated wine collector and even more passionate wine drinker, had texted me "So I decided that u should check my cellar and pick any wine for your birthday. No restrictions."
This was tantamount to winning the lottery. Would this be the day we'd finally pop the cork on the Chateau Latour 1990? Or the Chateau Margaux 1986? Would the Gaja Sperss 2003 be ready? My head was spinning, cloudy with visions of Grand Crus dancing in my head.
Ultimately we decided to defer to the needs of the menu—the spaghetti and meatballs that I'd grown up on, a dish that serves as my personal suburban madeleine. So Old Bordeaux with dinner was out. We decided to let history be our guide.
We ate and drank the same thing nearly every Friday night when I was a kid in that house: Spaghetti and meatballs with a big, juicy California Cabernet Sauvignon. My grandparents would come over, my sister and I would argue and show off, and, once dinner was served, I'd always be given a full-size wine glass with maybe an ounce of cab in it. To this day, I cannot smell sautéing onions and garlic without seeing, in my mind's eye, the sun slashing through the bay windows in the kitchen, my grandmother sitting at the table talking with my mother, my grandfather in the living room with my father, both of them sipping their reds and noshing from the box of Snyder's hard pretzels between them.
So at this dinner, to ring in my 34th year, we paired the pasta with a bottle of Gaja Ca' Marcanda Magari 2004, a blend of 50% merlot, 25% cabernet sauvignon, and 25% cabernet franc that, while not exactly what we drank all those years ago, nodded in a similar flavor and texture direction: Sweet plum fruit and an anise-like perfume were all wrapped up in a creamy, brightly acidic texture that was impossible to stop drinking.
It was perfect. And not just the pairing, though that certainly worked wonderfully. No, it was the entire scene: My father, grandfather, and I at the same end of the table we've been perched at since the early 1980s, when I needed to sit on a stack of phone books to reach my plate, and old and new family members gathered around.
In keeping with tradition, after toasting to family, health, and happiness, I dipped my finger into my glass of Gaja, walked it over to my baby daughter Sophie, and rubbed a bit of it on her lips.
She licked them tentatively, looked momentarily confused, and then split her little cupid's bow of a mouth into a wide-open smile that may have swallowed up the entire dinner table. It was, even for her, the perfect wine for the occasion.
---
Got a favorite pairing? Let us know in the comments