The Staggering Ox Mount St. Helens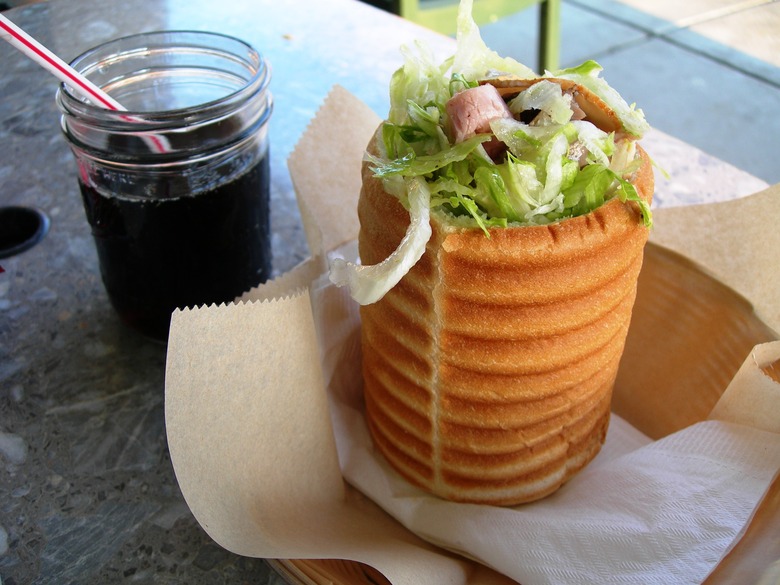 You might trek to Montana for the jaw-dropping scenery, the chance to see a grizzly, the opportunity to drive at dangerous speeds, or the equally dangerous pours of alcohol—but it's unlikely you'd head to Big Sky Country in search of good food. As a general rule in any Montana dining establishment, your meal will be served with fries in some sort of plastic basket. But one exception can be found in Helena, Montana at the Staggering Ox, home of our sandwich of the week: the Mount St. Helens.
To understand an Ox sandwich, you have to start with the bread. Whether you go with French, whole wheat, dill, or garlic parmesan, it's the physical form of the bread that's unique. Baked in a cylindrical shape and hollowed out by hand (bread guts can also be purchased by the bagful), the Clubfoot is a registered trademark of Staggering Ox, which has locations in Helena, Billings, and Missoula, as well as in Spokane, Washington.
The Clubfoot's the perfect vessel for the St. Helens, an absurd serving of five fresh meats, five cheeses, and enough veggies to fill in any space that's left. (The meats are ham, turkey, pepperoni, pastrami, and beef; the cheeses are swiss, provolone, cheddar, monterey jack, and mozzarella). You can top the whole thing off with the sauce of your choice (we recommend ranch dressing); mayonnaise haters will appreciate that the Clubfoot only comes with mayo on request. The bread does a remarkable job of harnessing all the ingredients—keeping your sandwich clear of any comparisons to its namesake, the iconic Washington State volcano that erupted in 1980.
For carnivores, the Ox is a veritable embarrassment of riches. Besides the Mount St. Helens, there's the Nuke (pictured), which packs in ham, turkey, roast beef, swiss, provolone, cheddar, and lettuce; the "Slam The Damn Taliban," a variation on the gyro; and a pepperoni/monterey jack combo that's like some sort of Montana-Mex pizza bowl.
For non-carnivores, the Mouse Trap or the Vegi make worthy substitutes. And for the truly conflicted, we recommend the Pepperoni Vegi—which is made just like the Vegi, with a healthy addition of meat. It is Montana after all.
---
Ever been to a Staggering Ox? Share your sandwich memories in the comments.
Other sandwiches of the week from Food Republic: