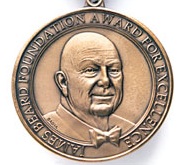 Last night top chefs and food fans from around the country traded in their toques for tuxes, gowns, and a surprising number of feathery fascinators — mostly on the women. While we attributed that last bit to left-over Royal wedding fervor and tried to ignore it, the rest of the night held our attention raptly as the medallions were handed out.
Editorial director Richard watched from a seat in the theater and the Mercedes-Benz lounge where he was among the first to congratulate and chat with the winners, who included Tony Maws of Boston's Craigie on Main — a recent Food Republic burger of the week honoree, although I'm sure this award meant something to him as well. Editor in Chief Lisa hunkered down in the press room where chefs, presenters, and writers sipped Plymouth gin cocktails and scoffed down the magical meatballs of The Meatball Shop. All in all a fun little night.
And the winners were:
BEST NEW RESTAURANT
ABC Kitchen, NYC
OUTSTANDING CHEF
José Andrés, minibar by José Andrés, Washington, D.C.

OUTSTANDING PASTRY CHEF
Angela Pinkerton, Eleven Madison Park, NYC
OUTSTANDING RESTAURANT
Eleven Madison Park, NYC
OUTSTANDING RESTAURATEUR
Richard Melman

OUTSTANDING SERVICE
Per Se, NYC

OUTSTANDING WINE SERVICE
The Modern, NYC, Belinda Chang

OUTSTANDING WINE AND SPIRITS PROFESSIONAL
Julian Van Winkle III, Old Rip Van Winkle Distillery, Louisville, KY
RISING STAR CHEF OF THE YEAR
Gabriel Rucker, Le Pigeon, Portland, OR
BEST CHEF: GREAT LAKES
Alex Young, Zingerman's Roadhouse, Ann Arbor, MI
BEST CHEF: MID-ATLANTIC
Michael Solomonov, Zahav, Philadelphia
BEST CHEF: MIDWEST
Isaac Becker, 112 Eatery, Minneapolis

BEST CHEF: NEW YORK CITY
Gabrielle Hamilton, Prune
BEST CHEF: NORTHEAST
Tony Maws, Craigie On Main, Cambridge, MA

BEST CHEF: NORTHWEST
Andy Ricker, Pok Pok, Portland, OR
BEST CHEF: PACIFIC
Michael Tusk, Quince, San Francisco
BEST CHEF: SOUTH
Stephen Stryjewski, Cochon, New Orleans
BEST CHEF: SOUTHEAST
Andrea Reusing, Lantern, Chapel Hill, NC
BEST CHEF: SOUTHWEST
*TIE Saipin Chutima, Lotus of Siam, Las Vegas
*TIE Tyson Cole, Uchi, Austin, TX
AMERICA'S CLASSICS AWARDS
Locally owned restaurants "beloved in their regions for quality food that reflects the character of their community," according to the Foundation.
Chef Vola's (Atlantic City, NJ)
Crook's Corner (Chapel Hill, NC)
Noriega Restaurant and Hotel (Bakersfield, CA)
Le Veau d'Or (New York, NY)
Watts Tea Shop (Milwaukee, WI)
WHO'S WHO OF FOOD & BEVERAGE IN AMERICA
Jonathan Gold, Writer, LA Weekly, Los Angeles
Lee Jones, Farmer/ Owner, Chef's Garden, Huron, OH
Charles Phan, Chef/Owner, The Slanted Door, San Francisco
Frank Stitt, Chef/Owner, Highlands Bar and Grill, Birmingham, AL
Nick Valenti, CEO, Patina Restaurant Group
LIFETIME ACHIEVEMENT
Kevin Zraly
HUMANITARIAN OF THE YEAR
FareStart