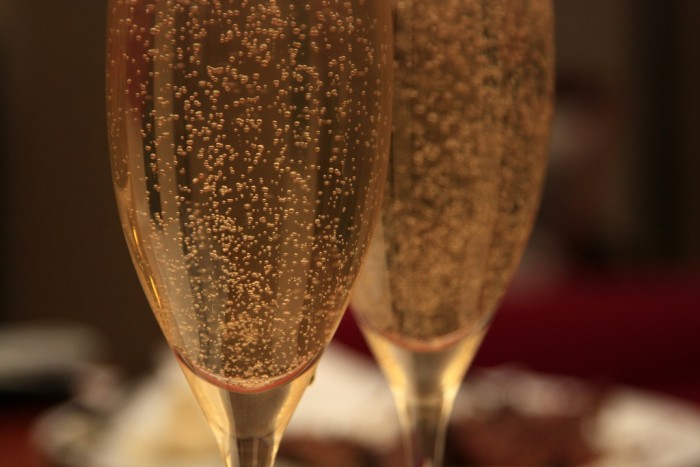 One of the best things about the weekend before the James Beard Awards is all the chefs who are in our hometown NYC for the festivities. We met up for brunch at East Village pizza mecca Motorino this weekend with Chef Cathy Whims of Nostrana in Portland, Oregon, who is a finalist in the Best Chefs Northwest category. Whims is known for her sophisticated yet completely accessible regional Italian cuisine and amazing wood-fired oven pizzas, so she wanted to check out some of New York's City's finest pizza offerings. Over margherita, ramp, and Brussels sprouts & pancetta pies, we talked about her latest wine and salume pairing at Nostrana, which features a flight of three Lini Lambrusca wines paired with a salami made with Maricha Pepe, a blend of Malaysian
peppercorns and "false peppercorns" from Peru, created by Gianni Frasi, one of Italy's premier coffee roasters.
Lambrusco took a big hit in the U.S. with Riunite in the 1970s. The cloyingly sweet, wine cooler-y wine was inexplicably popular and ruined the image of the finer, more subtle versions of the wine for decades.
But good Lambrusco is fizzy, dry, and lively with an earthy quality as well. "It just says Spring to me," says Whims. The Italian sparkler also pairs perfectly with cured meats. "The fizziness cuts right through the fattiness of the pork" explains Whims. T
It makes geographical sense. Lambruscos hail from Emilia, where it is said there are more pigs per capita than anywhere else in the world. The red Lambrusco Salamino grapes even grow in small cylindrical clusters that look like salami.
The Lini family has been making Lambrusco since 1910. Currently on offer at Nostrana is a flight of three shades of lambrusco from Lini: a white Lambrusco bianco 2010, a pale pink Lambrusco rosato 2010, and a rosy Lambrusco rosso. All are served alongside a peppery salumi. The wines cut through both the heat and fat of the cured meat for a perfect pairing.