Jaimie Alexander's Best Man-Cooked Meal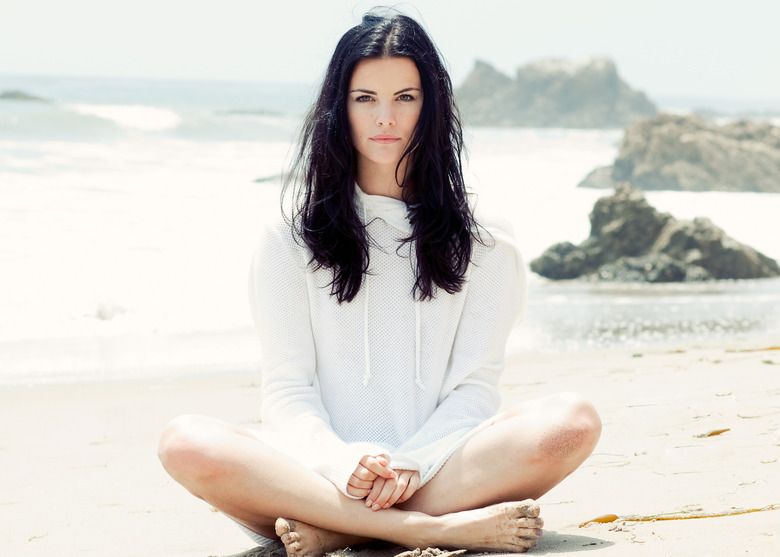 Up-and-coming stunner Jaimie Alexander plays Sif, the Goddess of War, in the much-anticipated movie Thor, out tomorrow (Friday, May 6), and also starring Chris Hemsworth and some chick named Natalie Portman.
Alexander currently lives in Los Angeles like most good starlets, but she's a Texas native who likes her BBQ and loves a man who can handle a grill.
When sharing her favorite meal a man has ever made her, Alexander prefers to keep it simple with beer, a backyard, and a bonfire. Lucky for her potential suitors, summer is right around the corner. I predict the line to date this warrior goddess will be as well.
What's the BEST meal a guy's ever made you and why?
Lobster, steak, chicken skewers, and grilled veggies. For dessert, roasted marshmallows over the fire. It was my second time hanging out with this guy and he had a big group over at his house for a summer BBQ. It was a lot of fun. Everyone pitched in and helped cook the meal. There's something about a man and a grill that I just can't resist.
Why was it your favorite?
I think it was my favorite because not only was the food amazing, but there was music, dancing, and beer. It was a summer night and everything was so perfect and everyone was so happy and relaxed. It took place in the backyard of this beautiful house in Beachwood Canyon. There was a small bonfire, music, patio lights, and good company.
What's your description of a perfect night?
I think a perfect night would be spending time with the person you love...the mood would be mellow, relaxing. Comfy clothes and perhaps a movie on DVD.
Does your man need to have culinary skills?
No, not really. I love to cook so I can take over when necessary. I'd love for him to help out in the kitchen though. Maybe take out the garbage (hahaha).
Are you currently single?
Yes, I am.
What are a few of your all-time favorites restaurants and why?
Here in Los Angeles I really enjoy Osteria Mamma on Melrose Ave. It's a cute little Italian restaurant with amazing food. As for a beer and a blue cheese burger (one of my favorites) I love going to Lucy's 51 in Toluca Lake. It's a great little bar with great food.
What's your character like in Thor? Is she anything like you in real life?
Lady Sif and I are quite similar. We have compatible personalities. She's a tough girl with a sweet, vulnerable side. She works hard and plays hard. She's a "one man woman" a lot like myself.
Gentlemen, what's the best meal you've cooked for a woman? And ladies, what's the best meal a man's ever cooked you? Let us know in comments.
---
Other Women We'd Cook For on Food Republic: