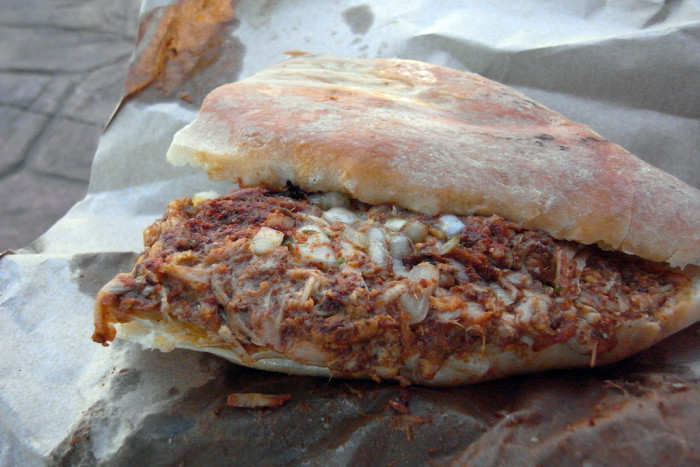 "It's way too early to shove that into your mouth," my fiancée tsk-tsked, shaking her head in the warm morning sunshine of Valladolid, Mexico.
I extended a single grease-stained finger. "Shh," I said, gazing longingly at my sandwich. "It's never too early to eat cochinita pibil."
"But it's 9 a.m.," she said, sipping her creamy, sugared coffee.
"Never too early," I said, taking a greedy bite of carnivorous bliss.
It was our third day in Valladolid, a dusty, Spanish Colonial–flavored town in the Yucatán, and I'd eaten three times as many tortas freighted with the peninsula's signature pork dish: cochinitia pibil. Consider it pulled pork of the finest sort. To create it, the swine (cochinita means baby pig, but pork loin and shoulder are also used) is marinated with the juice of bitter oranges and achiote paste—it imparts a reddish tint and a subtly sweet, peppery flavor. The acidic juice tenderizes the flesh, which is then wrapped in banana leaves and consigned to an underground oven where it slow-cooks till its fall-apart tender. (You can approximate the subterranean cookery by steaming the pork in a sealed dish in the oven.)
In my life, I'd eaten precious little memorable cochinita pibil. At most Mexican restaurants in my New York hometown, the renditions were dehydrated, stringy, and about as appealing as sliced-up shoe leather. My one attempt to cook cochinita resulted in a dry, bland, resounding disaster. "We spent all day cooking that?" bemoaned my buddy José, a man who blindly loves tacos and pork. Failing José is a little like a college kid thumbing his nose at a free kegger.
But in Valladolid, which my fiancée and I visited last December, I found my porky heaven. Nearly every block in the bright, sun-baked city featured a vendor slinging cochinita pibil on the sidewalk. The salesman takes your money and order, sending the cook into action. He dips his ungloved hand deep into an oily pile of baby-soft pig and carefully places a meaty wad on either a thick corn tortilla (about 30 to 40 cents apiece) or a torpedo of chewy bread (about a buck). The pig is crowned with chopped onions, then comes the query: "Picante?"
Spicy does not mean salsa. Instead, answering yes nets you an electric orange habañero pepper that you're supposed to munch while chomping the taco or torta. Though it seems like a cruel form of tastebud torture, the pepper-pork pairing is inspired. The habañero's heat cuts through the rich meat, simultaneously contrasting and complementing. Over the course of three days in Valladolid, I became hopelessly addicted to cochinita pubil. I ate it from first morning light to last call—to the eternal chagrin of my vegetarian fiancée.
"Did you really have to bring two tortas with us?" she asked as we boarded a bus bound for Mérida, soon to leave Valladolid in the distance.
"When you're in Mexico," I told her, popping another chunk of pork betwixt my lips, "you have to go whole hog."