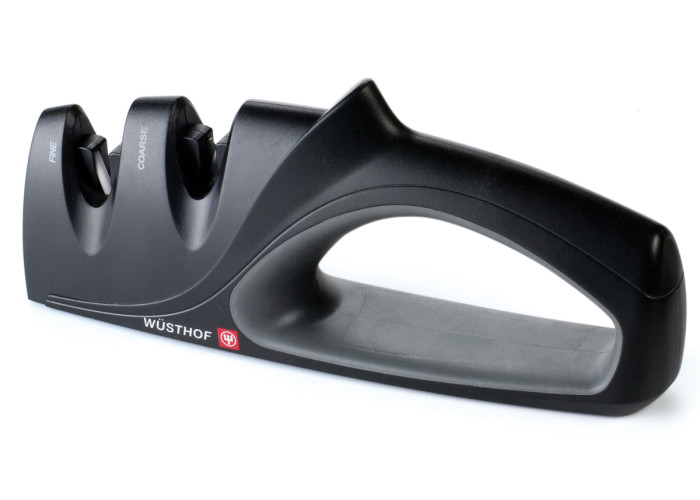 The Gadget: Wusthof 2-Stage Handheld Sharpener
The Price: $19.99
The Story: So you've got the countertop knife block but the dull knives within have become more of a space waste than a set of functional kitchen tools? This handheld sharpener can fix that.
To start, I pulled every knife out of the drawer and my own knife block, including serrated knives and even my kitchen shears. As a professionally trained chef, I have A LOT of knives. I tested 41 knives in all on this new device.
Along with a knife block full of Wushofs, the knives tested included 8 steak knives, my entire CIA–issued knife kit of Frederick Dick pieces, a carbon steel Japanese number, and a 9- inch Shun chef's knife.
The Test: The Wusthof 2-Stage Handheld Sharpener is only 8 inches long and has two slots (thus the name 2-stage sharpener), one labeled coarse and one labeled fine. Coarse being for dull edges and fine being for knives that just need a little honing. The instruction is to insert knife fully into the slot at a 90-degree angle and pull towards you, from base to tip with moderate pressure. I tried this approach and was less than impressed. So I increased the intensity of pressure and with a couple more swipes was completely satisfied. When I started, my blades ranged from sharp as a spoon to pretty darn sharp, and when I finished, 41 knives later, each piece was straight-up sharp and ready for slicing.
Other pluses: This gadget has a non-slip grip pad lining the base, which prevents it from going airborne during your sharpening session. It is portable and fits easily into any kitchen drawer. Other knife-sharpening options include dropping them off at a local hardware store, where the fee is about $3 a knife, or living with dull knives. For under $20 this sharpener saved me $103 just on its first run. No need to do the math though, just know this is a kitchen gadget that keeps on giving.
Other gadget reviews from Food Republic: