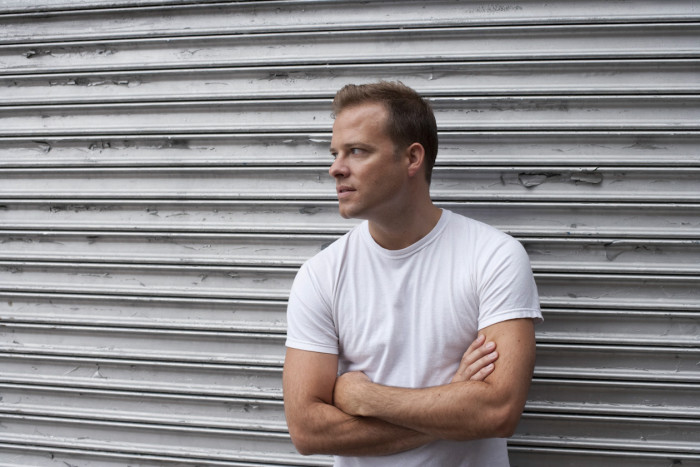 "Sometimes doing things spur of the moment is the only way to go," says menswear fashion designer Simon Spurr without the slightest trace of irony. Given the fast swell of success that has come his way since expanding his label from denim to a full collection in 2009, the dapper NYC-based Brit speaks from experience.
Spurr cut his teeth designing menswear for the legendary label Yves Saint Laurent, followed by stints working under two American greats, Calvin Klein and Ralph Lauren. It seems fitting then that Spurr's own aesthetic is the perfect synthesis of all these experiences, underscored by the distinct precision and tailoring characteristic to London's Savile Row. Unfussy, clean lines and slim-fitting suits make up Spurr's sharp-dressed man.
And it's a winning formula indeed—Spurr was just nominated as a finalist for the esteemed menswear designer of the year award by the Council of Fashion Designers of America—although the 37-year-old has had little time to pause and breathe in the sweet smell of success.
His life is something to emulate if you're a style-conscious guy, so we started with some questions about Spurr's lifestyle. Then, this being Food Republic, we probed his food and drink habits, where we find out that his brother was a farmer—and that he makes a mean Sunday roast.
Where do you live right now?
[My wife and I] live on the Upper West Side on Riverside Park. I've been in the area for a few years, but we bought our apartment together about one and a half years ago. Ironically, it's in the same building where my wife was born.
What's your everyday, get-up-and-get-dressed look?
"On the move." I dress very simply, often in a variation of the same look each day. I've moved a lot into black—I guess it came from working in the fashion industry—as it's extremely versatile. I dress for comfort: normally jeans and a T-shirt or cashmere sweater, and then throw on a jacket when I go out for dinner.
How often do you make it to the gym?
I try to get to the gym about four to five times a week. I start early, around 6:30 a.m., as I'm exhausted by the end of the day and never feel like going to the gym then. I run and use a combination of the machines and free weights. On Saturday and Sunday I try to get in an hour workout before I take an hourlong Pilates class.
What's your favorite gadget?
My iPhone. Sometime I think it's surgically attached to me—not something I'm proud of.
What's your Sunday morning routine?
Simply put, I wake up and turn on the TV to watch football (soccer). This is almost the extent of all the TV I watch. It's a little slice of life back home that I cling onto. In an ideal world, I'd be at that football match!
If you weren't a fashion designer, any other career options?
Actually even at this point in my career, I don't think that I will always be a fashion designer. I love what I do, but I'm already interested in so many other things: Conceptual architecture—I'd love to be a "horizon architect." Not sure if that terminology even exists, but an architect that changes the shape or silhouette of a particular horizon. Or design furniture.
Favorite thing to cook?
Growing up in England, I became a wiz at the Sunday roast. Whether beef, chicken, or lamb, I'm pretty traditional in my choice of ingredients. Roasted potatoes, parboiled, and then roughed up in a colander to give them texture. I drizzle the potatoes in olive oil and season with basil so they are really clean and light. Other vegetables normally consist of honey-roasted carrots and broccoli cheese. I make my own roux sauce and try to blend a few different types of cheeses. Served with a liberal glass of wine—or whatever has been consumed during the cooking process—and some devil on horsebacks, it normally results in a clean plate and the beginning of a very lazy afternoon.
Do you pay attention to food labels?
Definitely. I always try to be responsible when buying groceries. By that I mean what I put into my body, and [contribute] to the food industry. My brother was a farmer for many years and worked on local farms that supplied meat to our local butcher. The meat on our table was invariably from livestock that my brother tended to. Why would you eat food that has travelled for days circulating the world when you can eat food from up the road?
Wine or beer?
Traditionally I drink more beer, having grown up in the British pub culture, but savor wine with food or cheese. It really depends on the occasion and situation.
Where do you like to eat out?
I tend to dine at very simple places. Cookshop makes one of the best chicken paillards in the city!
Best meal of your life?
It's a meal I have every time I go to Florence, at a place called Sostanza. A man of habit, I always order two breasts of chicken that have been marinated in milk, which are then fried and served in a tray of butter, followed by a huge slice of meringue that has large chucks of chocolate in it and wild strawberries on the side—don't tell my doctor.
Other interviews with guys on the go from Food Republic: