Last Night's Party: Saveur Book Launch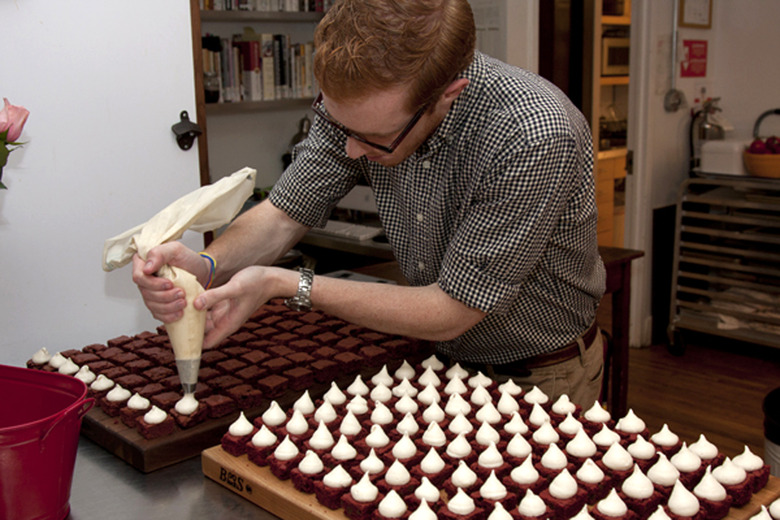 What: Saveur: The New Comfort Food book party
Where: Saveur offices on East 32nd Street, New York City
When: Thursday, April 28, 2011. 6PM-8PM.
Food: A selection of "global comfort food" dishes featured in the book. Guacamole, Italian-style meatballs with tomato ragu, mushroom crostini, red velvet brownies with cream cheese frosting
Drink: Bedell Cellars First Crush from North Fork, Long Island; Ommegang Abbey Ale
Party: Saveur is probably the scrappiest of the big three culinary glossies—we're cool with Bon Appétit and Food and Wine too. But there's an ethic at Saveur to, well, throw parties in their Koreatown offices. You have to walk through rows of cubicles to get to the magazine's test kitchen in the rear—where the bashes are typically held. It can get kind of wild around the holidays.
Last night was a pretty typical Saveur gathering. EIC and Top Chef judge James Oseland held court while his kitchen staff prepared dishes for the crowd—which was split between ad buyers in suits, fresh-faced interns and assistants dressed down-ish, and a handful of food writers doing what they do best. (See: free Sauvignon Blanc). The occasion was the release of the mag's latest cookbook—The New Comfort Food. The book compiles "comfort" recipes from around the globe like Thai tom yum goong and Hungarian chicken paprikash. So the big contention is that "comfort" needn't be associated with southern American cooking (fried chicken; mac and cheese).
Verdict: I liked the informal style of the event with pour-yourself wine and small bites served by the super-smiley test kitchen staff. They were smiley even when piping cream cheese frosting on hundreds of red velvet brownie bites. I hit the guacamole a couple times—placing chips directly into the bowl of the onion-y, cilantro-heavy dip. Hardcore, I know. The meatballs, though cold, were flavorful and in the style of Marco Canora. Slathered with lots of tomato ragu. Props to the wines from Bedell Cellars on Long Island. Drank a couple glasses. I'm a food writer, after all.