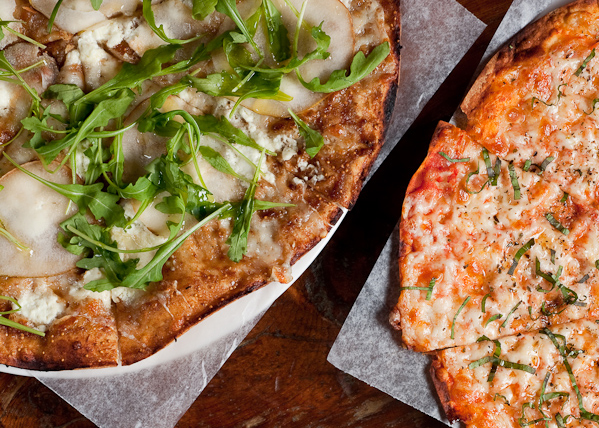 New York's Hudson Valley is one of my favorite getaways, a region just a few hours north of Manhattan with rolling fields and hundreds of small farms. Throughout the area, there are small towns and cities like Rhinebeck, where I recently went for brunch at a Gigi Trattoria after shopping for local cheeses at Gigi Market.
Because it was brunch, I decided to order a delicious-sounding eggs florentine, made, of course, with eggs and spinach from local farms. But it was something else on the menu that grabbed my attention: Skizza. What's a skizza?
I asked Gigi owner Laura Pensiero, who described skizza as an unleavened flat-bread pizza, which cooks like a Neapolitan-style pizza, and can be topped with seasonal ingredients (I'll show you a listing of the various skizzas offered at the end of this post).
After seeing it on the menu and asking about it, I walked to the restroom and saw several skizzas being delivered to a nearby table. Maybe it was the sunlight pouring into the dining room through the big windows or perhaps I was just hungry, but the memory of those skizzas—melted white cheese on a golden crust with peeks of sauce and fresh herbs strews across it—haunts me. Why didn't I order a skizza? Why?! The couple at the next table were ordering one to go, even though they were also ordering brunch.
At any rate, I'll be back and I will have my skizza, but in the meantime, I asked Penseiro for a recipe. Turns out the skizza dough is a proprietary recipe, but she encourages anyone to make a basic pizza dough and try making a skizza-type deal at home, preferably using fresh seasonal ingdredients.
Okay, I leave you with spring, summer, and anytime selections from the Gigi skizza lineup. Prepare to have your mouth water.
Spring
Tomato sauce, mozzarella, gamberetti (small shrimp) pea shoots, and red chili flakes
Asparagus, Vidalia onions, fontina, truffle oil
Chopped garlicky clams and Migliorelli Farm baby spinach
Melted Hearty Roots Farm Farm leeks Mountain Smokehouse Products bacon and Fontina
Pickled RSK Farm ramps, corola potato and taleggio
Spring onions, salmon, lemon vinaigrette–dressed baby spinach, crème fraîche drizzle
Summer
Arugula pesto, thinly sliced Northwind Farm chicken breast, Gigi Ricotta
Heirloom tomatoes, buffalo mozzarella, fresh oregano and basil
Eggplant caponata, oil-cured tuna, red chili flakes
Arugula pesto, zucchini and fresh herb ricotta, and grated Parmesan
Northwind Farm sausage, Hearty Roots bell peppers, mozzarella, shaved Parmesan
Garden string beans, eggplant summer squash, zucchini, cherry tomatoes
Peach BBQ sauce, rotisserie porchetta, smoked mozzarella
Every season
Margherita: Tomato, basil, oregano, mozzarella
Caterina: Oven roasted seasonal vegetables, Pecorino Romano.
Mamma: Tuscan-style porchetta, fennel salami, red onion, tomato, mozzarella.
Rustica: Northwind Farm fennel sausage, broccoli rabe, shaved Parmesan, red chili flakes
Vongole: Shucked clams, Parmesan, garlic, extra virgin olive oil, herbs
Bianca: Coach Farm goat cheese, mozzarella, rosemary preserved figs, pears, arugula, white truffle oil
Other Pizzas of the Week from Food Republic: