Wusthof Hunting Knife Review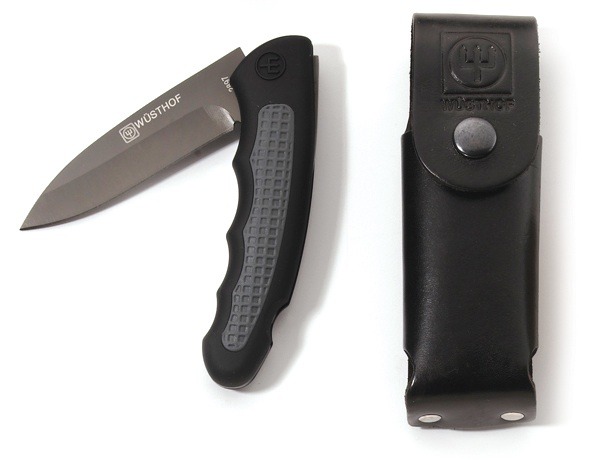 Wusthof 4-inch Folding Knife with Sheath
The Gadget: Wusthof 4-inch Folding Knife with Sheath for hunters and adventurous outdoor cooks
Price: $69.99
The Story: Since your 10-inch chef's knife isn't easily portable to the outdoors, Wusthof, king of the German forged knives, has ingeniously come up with options for outdoorsy cooks and those who might be capturing and prepping their own game.
Whether you hunt, fish, or camp, this 4-inch folding hunting knife is an awesome addition to your gear. At first glance it's stealth-looking with the black and steely gray handle. It easily opens displaying a super-sharp blade and comfortable non-slip contoured grip. We liked that there was no lock on the folding knife, making it easier for us to use quickly. Just keep an eye open so as to avoid any accidents with rookie hunting mates.
Just like Wusthof's heavyweight kitchen knives, this blade is wider at the base and tapers to a sharp point for optimal cutting. Our concern? How long will this blade stay sharp? After hours of throwing into a tree, cutting pre-hunted prey from the grocery store, and working on varied surfaces of dirt, gravel, and picnic table, the blade was still sharp. Not as razor sharp as when it arrived, but with a simple swipe on a sharpener it was good as new.
Other pluses: At only 4 inches in length this is ideal for hunting and preparing small critters and game. We also dig that it's very lightweight, and if you're into accessories, it comes with a sheath for easy storage on your belt. Though we'd skip this part for two reasons: 1. it makes it harder to access your knife quickly; the pocket will do just fine; and 2. it reminded us a bit of the fanny pack: functional, but totally not cool. In the end this is a gadget that any outdoorsman/cook would love to own.
---