Burgers And Bubbly In NYC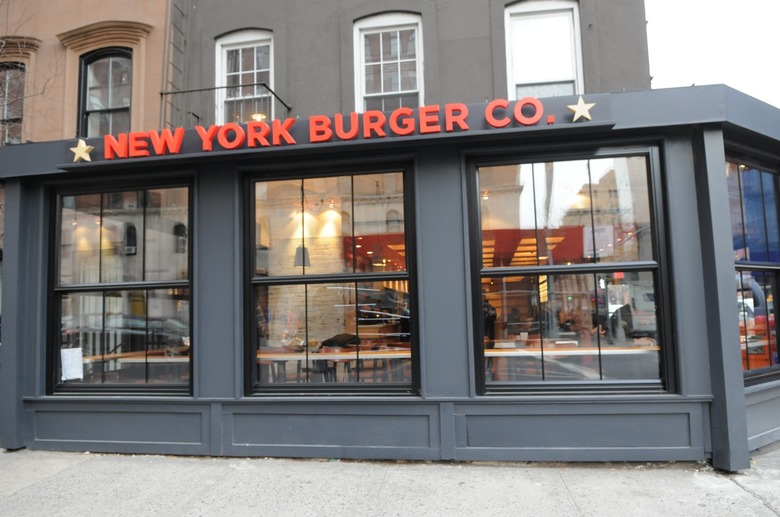 It seems like all we're doing today is talking about burgers, but maybe that's what happens the day after a classic burger binge. Like last night's Moët Hennessy USA burger and Champagne pairing, hosted at NYC's New York Burger Co.
The idea was just show to some people that when paired correctly, burgers and bubbly go quite well together. It was good timing: It's practically barbecue season, and no doubt everyone will be making burgers and serving 'em up alongside that old sidekick, beer.
I am gonna break character here to tell you that THIS WAS AN AMAZING DINNER! I didn't even make it for the first two pairings, which involved chicken minis with a Dom Pérignon and a New York Burger (served with fries) alongside a glass of Veuve Clicquot.
Lucky for me, my first pairing was a promising-sounding Éparnay burger (named after the city where Champagne is made), which was a mini burger topped with a smear of goat cheese, a touch of tapenade, and either a sautéed onion or leek—some sort of nice little veggie flavor. A glass of Moët & Chandon to wash it down? Oui, monsieur. Seriously, this was one of the most amazing food/drink combinations I've had in 2011. (Sadly, this is not a regular burger on the menu, but New York Burger Co. co-owner Madeline Poley hinted it will be coming back in July for some sort of French restaurant week.)
Next up was a Chelsea burger, which featured bacon, cheddar, and a pickle, plus some damn good onion rings. I have to say, I love Ruinart, and the burger and rings didn't quite live up to the sophistication of this Champagne.
Or maybe they were saving the best for last? The Tribeca burger, also with bacon but dressed up with bleu cheese, avocado, and tomato, pretty much could have been paired with flat soda and I woulda been happy, but complemented by Krug Grande Cuvée, which is made from various vintages of wines, well, let's just say, it slayed. Brilliant.
Then the whole thing ended with les Canalés de Céline, delicious mini pastries with a hint of sweetness. And I stumbled out, happy. Burgers and Champagne will be my summer jam. You should try it too.