What I've Seen: John Besh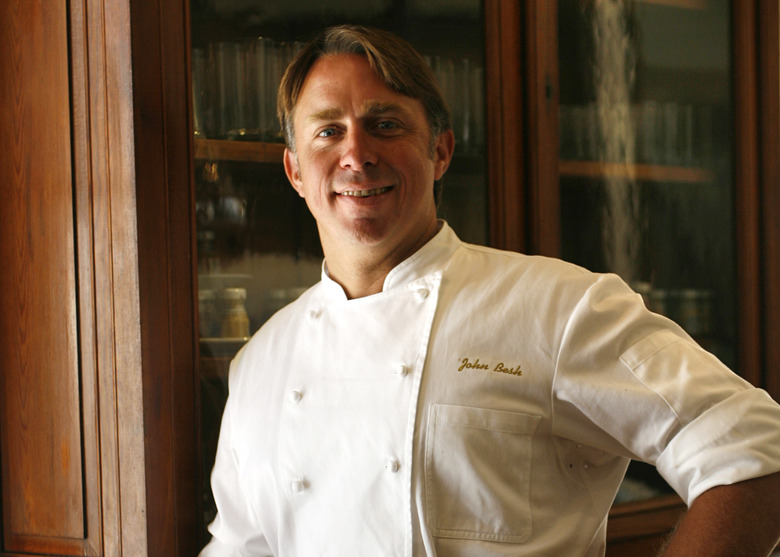 portrait of John Besh
On his way to becoming one of the most-decorated chefs in the American South (James Beard Awards, Food & Wine Best New Chef, Top Chef Masters), a very weird thing happened to John Besh. He also became known as one the friendliest. Dude is nice at the level Gordon Ramsey is not. "The blackberries in my yard are just starting to ripen," says Besh in a calming drawl from his home in Louisiana. It wasn't Ruth Reichl Twitter feed sort of placidity, but his description of the changing seasons was pretty close.
It is with this goodwill that Besh has run his seven restaurants, including contemporary French master August in New Orleans. Over a 20-plus year career, the Mississippi native has seen some things. Rowdy beer executives and pastry chef manhandlings included. He's also cooked for a couple Presidents.
When was the last time you... spotted a big-time critic in your restaurant
It was [longtime New York Times correspondent] Johnny Apple who found his way to this really out-of-the-way restaurant I was working at in Abita Springs called Artesia. Through this one meal, back in 1997, I became friends with the man. I remember seeing his ticket come in, which was the ticket of somebody who was really into food. There was something special about the way he ordered and I had to go out and meet the person ordering it. And we began to talk about our fondest food memories of France. Back and forth, all night. And only at the end of the meal did he give me his card. I certainly knew who he was, but mostly as a political commentator at The New York Times. If it wasn't for him finding the place, I wouldn't be where I am today.
A chef inspired you...
David Chang inspired me the other day. I went around with New York magazine to rate all the new hip chicken places in New York. To see what he has done at a young age—to take classic techniques and applying them to great things that we love, whether it's noodles or wraps—I think is so much fun. Mario Batali inspires me on a regular basis too. He's such an artist.
Cooked for a President...
I've cooked for former and sitting Presidents. I cooked for the Bushes quite a bit. I remember once when George W. was coming into New Orleans for a North American trade summit. The White House called and wanted something special. But I had to decline because I was hosting a Today Show TV segment with Mrs. Bush. So I guess she won out. President Bush loved Louisiana food—good rustic cooking like gumbo. Even though the city of New Orleans is quite liberal and the political climate was not always the best, President Bush would always make himself quite visible in the city. He would visit often.
Kicked somebody out of your restaurant...
For years we had a table in the kitchen at August and one night a group of guys from out of town were there having an awesome time. And then started to get belligerent. And then they touched one of the young ladies who was working for us in the kitchen. That was it, and I told them to get the hell out of my kitchen. They were like, "You don't know who we are!" and I told them that I didn't care. If you are in my kitchen you act like a gentleman. Two weeks later I spot the men walking into the restaurant, sulking, with [former CEO of Anheuser-Busch] August Busch. They had apparently been in town previously doing site inspections and now they were back with the boss, who was celebrating a birthday dinner. They were scared to death that I was going to bring up their behavior during the previous visit. But I didn't. Figured I would exercise some mercy.
Taken your staff on a field trip...
We go on fieldtrips all the time. There's foraging fieldtrips—right now we are on the cusp of chanterelles opening up in the swamp, so I will take cooks out there. We go crawfishing. I will take people out hunting in the marshes. We also do a lot of management meetings around platters of amazing Vietnamese food in East New Orleans or plates of fried chicken in the Treme.
Fired somebody...
We had this very flamboyant pastry chef who had berated one of his bakers. I walk in to find our sous-chef at the time, Steve McHugh, holding the guy upside down by his legs. Steve then took him outside and threw him into the street and told him to never come back. "You don't talk to girls that way," was the quote, I believe. It was the funniest thing I have ever seen. This little New York pastry chef yelling and cursing as he was being carried out of the restaurant upside down.
Saw the bloodiest kitchen injury you have witnessed...
A guy lost the tip of his finger the other day. When you're a young chef and learning to cook, you are scarred up like there is no tomorrow. And as you cook, you become very conscious of not burning yourself. The longer you cook, the less you are cutting yourself. But it does happen. The last good cut I had was when I was giving a demo-lecture at the Culinary Institute of America in front of a couple hundred students. I'm cooking and taking questions and pontificating and take a look off my finger and wham! I hacked my fingernail off with a very sharp knife. I wrapped it up with a kitchen towel and tried to not miss a beat.
---
Ever eaten chez John Besh? Share your experiences in the comments.
---
Read more Chef Talk interviews: