NYC's Resto Goes All (Animal) In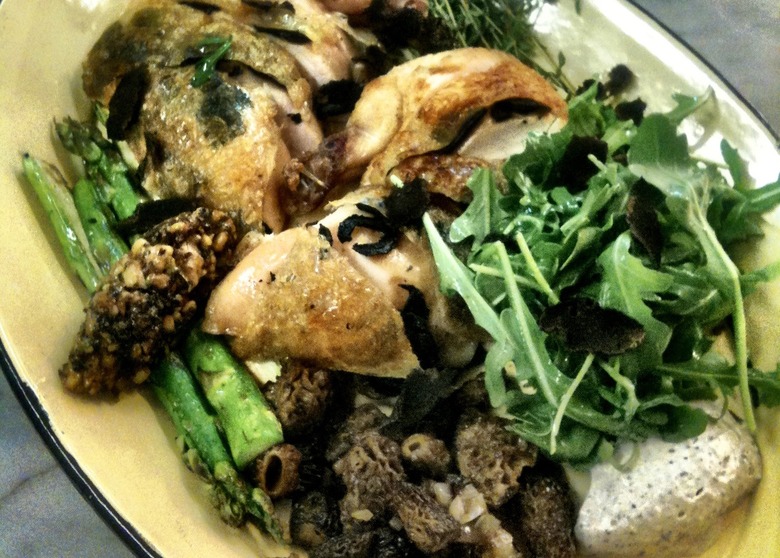 When Christian Pappanicholas opened Resto back in the Spring of 2007—on an anonymous stretch in Manhattan's Murray Hill neighborhood—he launched his Belgian-styled restaurant and lambic mini-mecca with a number of concepts that wound up catching fire across the restaurant nation in the coming years. (His wife works in fashion forecasting, which may help explain his eye.)
It was Resto that won an early following for a so-called designer burger—a proprietary blend of beef cheek, hanger steak, and fatback. Almost simultaneously, as the food world was just starting to hear about Fergus Henderson's nose-to-tail offal movement, chef Bobby Hellen began offering large-format feasts in which groups of four to 10 diners order an entire lamb or pig (sourced from a local farm or greenmarket, no doubt) and allowed the cooks to go Iron Chef on their ass to the tune of lamb neck tacos, fried pork leg salad, head cheese, and boudin blanc and noir.
Recently I hit the restaurant to check out Hellen's poularde en mourning—a four-course feast based around a beautiful Four Story Hill Farm chicken from Pennsylvania. The birds are "milk fed" using dried pellets and butchered at the peak of adolescence, when the breasts are plumpest. The meal kicked off with an amuse of chicken liver mousse spiked with shallots; a golden olive oil stream encircled the rich spread. Following was a poached farm egg over a spring risotto (with peas and ramps). Then the bird arrived, first whole for a formal presentation, complete with Hellen in his chef's whites, then sliced in the pictured presentation.
The essence of the dish is how the slow-roasted, succulent bird is paired with shaved black truffles, which are stuffed under the crisp skin. Morels, roasted asparagus, and a rich truffle cream accompanied. It's one of the most decadent chickens you will ever find. The closing course was the restaurant's signature dessert waffles (more cake-like than the breakfast variety) and three types of Belgian chocolates. A glass of jarringly complex sour cherry lambic closed the meal. Sour beers are looking to be a big trend in 2011. Pappanicholas has seen the future again.
Resto
111 East 29th Street
New York, NY 10016
212-685-5585