5 Highlights From VinItaly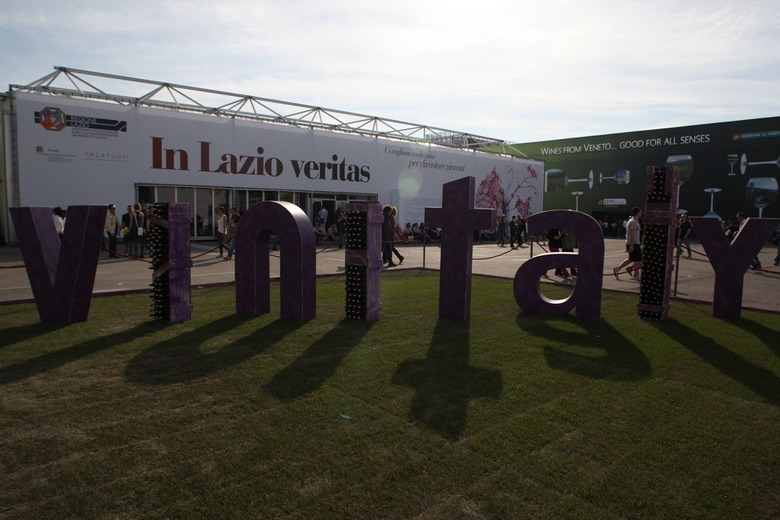 Every year, approximately 4,000 exhibitors (mostly, but not all, Italian) descend on Verona to showcase their best selection of wines and spirits, and in some cases, gastronomic foodstuffs at VinItaly, the world's largest wine and spirits exhibition. This year marked VinItaly's 45th anniversary, and organizers reported record attendance for the 5-day event, with 156,000 visitors from all over the world. It was my first year attending, and while the size and scope of the event was truly overwhelming, I jumped right in with all of the other wine–obsessed Italophiles, racing from region to region in search of new discoveries and old faves.
Here are 5 highlights from my 5 days at VinItaly:

Sparkling Italy: A new attraction at the exhibition, this section featured Italian spumante made with the classic and charmat methods. Visitors were given a glass and a card containing a microchip to insert at the different computerized tasting stations, to learn about, select, and rate sparkling wines from each region. At the end, personal selections and ratings according to individual preferences were printed out for each visitor.

Events: VinItaly hosted a number of compelling conferences and other events that touched on everything from wine trends, markets, and biodiversity to spirits and olive oil, as well as culinary tastings and mini-courses by Agrifood Club and Sol Goloso.

Ancient Friulian Varietals: A new discovery for me was the wines of Emilio Bulfon, a Friuli producer who cultivates ancient grape varietals native to his region, including Fogiarìn, Piculìt Neri, Scjalìn, and Ucelùt, which result in some very cool, funky wines.

Langa In: I learned about this consortium while doing a winemaking apprenticeship with Malvirà winery last fall, and while I was already familiar with some of the individual wineries, this was the first time I experienced the group as a whole. There are many top producers in the Piedmont region of Italy, but what's great about the Langa In group is that these 19 relatively small but high-quality producers offer a really interesting and particularly comprehensive flavor profile of the wines found in the Langhe and Roero zones.

Abruzzo: It's no Tuscany, but in my opinion this region deserves more recognition. They produce many quality wines, including some very affordable ones from the Montepulciano d'Abruzzo, Trebbiano, and Pecorino varietals. I was delighted to see some of my favorite Abruzzese producers represented at VinItaly, including Masciarelli, Zaccagnini, Pasetti, and Villa Medoro.
The next VinItaly will take place March 25-28, 2012.