Guide To Chicago: Day 2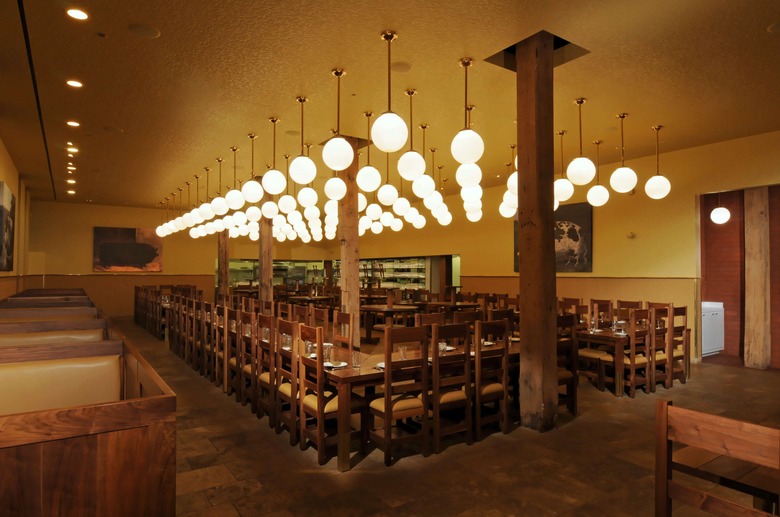 Yesterday our man-on-the-ground in Chicago recommended Takashi as one of the go-to spots for visitors and Chicagoans alike. Today's, he takes us on a trip to
The Publican
837 W. Fulton Market
Chicago 60607
312-733-9555
Paul Kahan (Blackbird, Avec) opened The Publican a couple of years ago in the reviving Fulton Market neighborhood. It's a stylish, urban take on a European beer hall—a huge open space, dark slate floor, and massive (and beautiful) wooden communal table. There are also a few private booths and several two-tops, as well some standing tables for people more interested in grabbing a beer and a snack or for those waiting to be seated. But most people end up at the communal table, and this being Chicago, you can either keep to yourself or strike up a friendly conversation with your neighbors.
The menu is divided into two halves, Fish and Meat. The meat is all sourced from smaller, ethical farms and is very pig-centric. The charcuterie plate, which varies, is always spectacular and includes the most delicious pork pie I've every tasted. Porchetta is often on the menu, as are blood sausages, country ribs, sweetbreads, and other meaty delights. However, I believe the most outstanding item on the menu is the humble-sounding and oft-overlooked half or whole "Farm Chicken," served with frites. It's one of those simple dishes that, at restaurants and at home, is almost always acceptably average to very good. But when done perfectly, as here, it can be sublime. This chicken is as perfect as a roasted bird can be, and I'd go so far to call it a must-order item.
The fish side of the menu doesn't get the glory, but The Publican serves some of the freshest seafood in the Midwest. The oysters are as good as I've had anywhere, and certainly the finest I've had in Chicago. Prepared dishes might include octopus with chickpea ragout, or fried clams with harissa aioli. Or perhaps something more substantial, such as halibut aqua pazzo with bay scallops, fingerling potatoes, and olives. Perfect mussels and a lemon-caper Dover sole are stellar reminders of how good these classic dishes can taste.
The massive beer list can be intimidating, but the friendly and knowledgeable servers are more than happy to recommend according to personal taste or to the food that's been ordered. They also have a smallish but expertly chosen and reasonable wine list, with many available by the glass (which is a third of a bottle pour).
It's no longer brand new, and it's a casual place, but The Publican is still extremely popular. Reservations are necessary any day of the week.
---
Have you been to The Publican? Any other Chicago restaurants you'd recommend? Tell us in the comments.