Talking With Noma Sous Chef Victor Wagman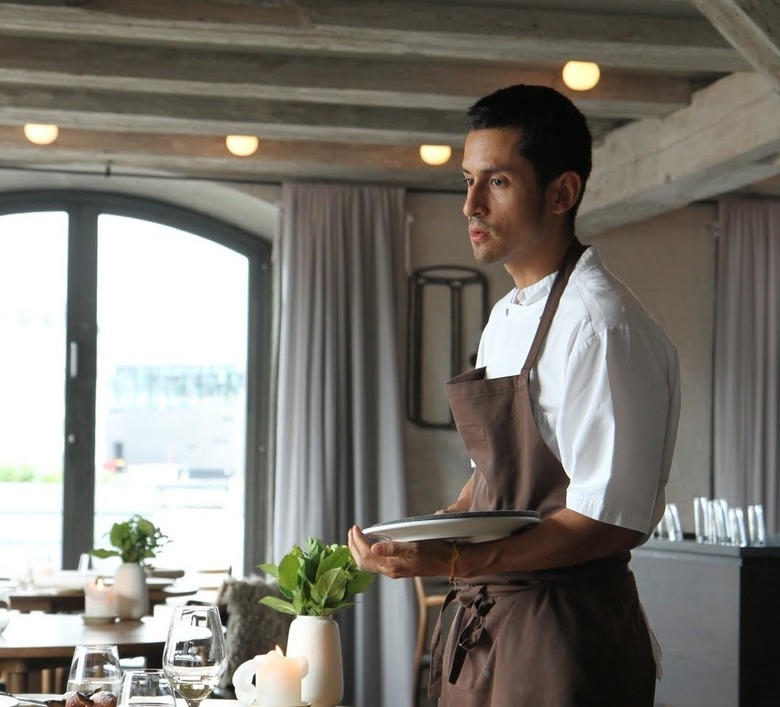 "Homage to soil and sea" is how some describe Copenhagen's Noma, a restaurant that—even in an era dominated by locally obsessed dining—stands apart. Chef Rene Redzepi serves dishes like whole carrots in tiny pots of "soil"—actually a malt and flour mixture—that are now being emulated as far away as Los Angeles, by Top Chef winner Michael Voltaggio, Redzepi and his staff are famous for doing the dirty work of the kitchen themselves, literally: They forage the nearby yards, fields, and waters for ingredients. Everything in the restaurant must hail from Scandanavia.
Redzepi has earned plenty of buzz, including the title of "World's Best Restaurant" on the just-announced S. Pellegrino annual list of the world's 50 best restaurants for the second year running, for simply named, visually arresting dishes including "musk-ox with smoked marrow." But who are the men who keep his business afloat?
One is Victor Wagman, a striking 28-year-old Swede who first arrived at Noma in 2008, drawn by Redzepi's work. Explains Wagman, "I saw some pictures of the food and I thought to myself, this is something I want to learn more about, be a part of."
Since then Wagman has risen through the ranks. Last October he was promoted to be one of Noma's two sous chefs. His duties in this upper echelon of fine cuisine? Cooking and foraging. Wagman spends his mornings hunting beaches for herbs and wild bird eggs.
We caught up to him to talk about how he landed the high profile job of buying puffin eggs, and got the scoop on Noma's version of mashed potatoes—an earthy puree made of reincarnated rotten tubers. Really.
What did you have to do to get hired?
I spent 10 days in the kitchen but I was lucky, some people were set to leave so there was a space for me. It's not that easy these days. We get more than 30 CVs a week.
What's it like to work for Rene?
Challenging, interesting, and very hard.
What is the creative culture like in the Noma kitchen?
It is very good. For example, we have something called "projects" every Saturday, which means that every section comes up with a new dish.
What are your responsibilities?
Research and products and finding new supplies. Say that Rene decides he wants some eggs from wild birds in Iceland. He gives me the contact name and he and I have to secure it. I research everything from bear meat to beaver meat to herbs that we find on the beach. Right now it is high season for herbs that we pick ourselves, [which] we pickle and use for the winter months.
What's an example of something weird that you've found?
Egg yolk potatoes. These are potatoes that grow to medium size. They were harvested in 2008 and left to rot more or less...to decompose. It sprouted and from that sprout we got these very little potatoes.
How little?
They are about a centimeter in diameter, maybe a bit smaller.
What do you use them for?
We use them for a potato puree.
What do they taste like?
They taste very earthy.
What is the most interesting ingredients you have worked with?
Most interesting were definitely some wild bird eggs from Iceland—puffin and razor brill eggs.
You guys only source locally. What ingredient were you surprised to find locally in Scandinavia?
Truffles. Because you have this picture in your head that it only exists in Italy or France.
What's your favorite thing about cooking?
It is that nothing ever stands still, that there is always something going on, a sauce to finish or a fish to prep. I like to feel that you're constantly going somewhere, with your cooing, with your senses.
What's the weirdest thing on the menu right now?
How about some live shrimps with a brown butter emulsion?
Ever been to Noma? Do you agree that it is the best restaurant in the world? Talk it out in the comments.