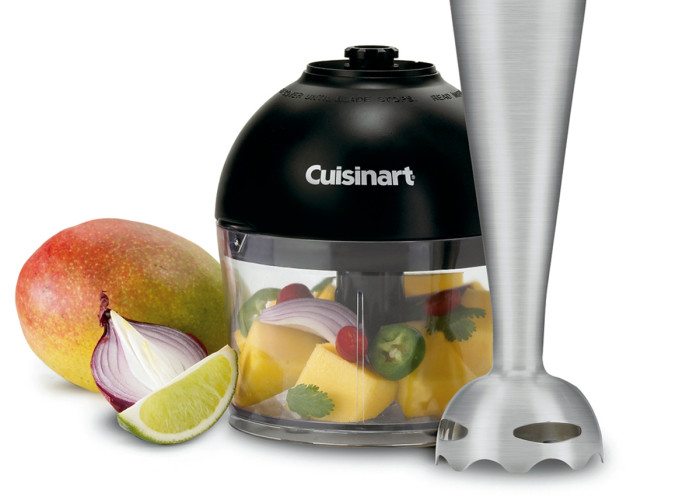 You've likely seen an immersion blender (aka hand or stick blender) and wondered what people use it for. It acts as a conventional blender, to puree fruits or vegetables and to make smoothies or shakes, but that's not all. Many immersion blenders also come with chopping bowl and whisk attachments that let you use the blender exactly as you would a mini-Cuisinart, chopping and mincing small portions of almost anything.
This can be a huge help when you want to cut down on vegetable prep time, or if you want to quickly make your own breadcrumbs or chopped nuts. The whisk attachment makes fluffy egg whites as well as impressive whipped cream.
Other uses for your immersion blender? Puree soups directly in the cooking pot, saving time and steps (though watch out for splatters!); make smoothies in a large plastic container, moving the blender up and down to incorporate all ingredients; make your own crushed tomatoes, apple sauce, or baby food.
CHOOSE YOUR WEAPON
For the first-time user and the proficient cook:
The Cuisinart Smart Stick Stainless Steel Hand Blender & Chopper, $49.95
Like most better-than-basic models, this tool has one speed (200 watts) that you use continuously or to pulse blend. The sleek blender comes with a 16-oz. plastic beaker, a whisk attachment, and a chopper attachment. You can put all attachments in the dishwasher, but the body of the blender with the power cord should only be wiped with a damp cloth.
For the gadget guru:
The KitchenAid Immersion Blender KHB300, $99.99
This intense version of a hand blender has nine(!) speeds, which anyone who's really intense about cooking will appreciate. It also comes with whisk and chopper attachments (this one has four different blades), as well as a 24-oz plastic beaker and lid. Bonus: This model has an extra-long, five-foot power cord, so you can really use it in any area of your kitchen.
Other items for your kitchen recommended by Food Republic:
---
Do you love your immersion blender like this Food Ambassador does? What do you make with it, and how often do you use it? Let us know in the comments.