Last Night's Party: One Kings Lane In NYC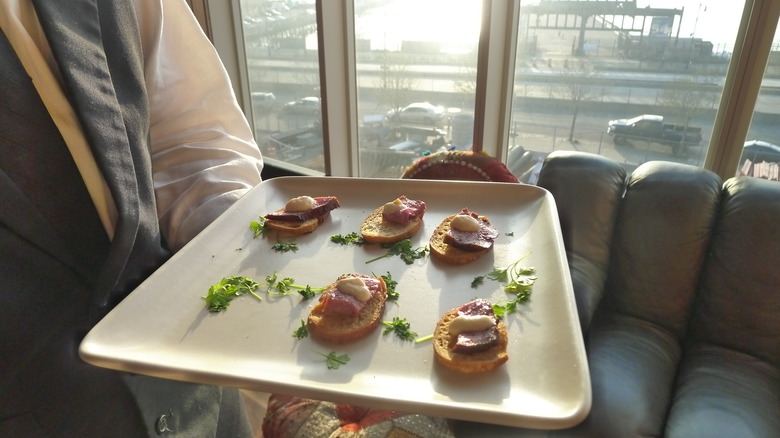 Food Republic's style editor Brett Fahlgren has been traveling the country for years hosting and attending events. He's eaten his share of passed hors d'oeuvres and sampled every kind of specialty cocktail you could imagine. Now on Food Republic, he'll regularly report on the details of last night's party.
What: One Kings Lane Cocktail Party
Where: The High Line Room at The Standard Hotel, NYC
When: Monday, April 11, 6-8 p.m. (*note, we graciously agreed to embargo this story till today)
Drinks: Pimm's Cup
Food: The Standard
DJ: Johnny Dynell
The home décor website One Kings Lane held a cocktail party last night in the High Line Room at The Standard. Overlooking the Hudson River and NYC's amazing High Line park, the sun-drenched room was filled with bright floral dresses and gingham-clad men. The event touted the site's "Tastemaker Container Sales," featuring items found in London, India, and Morocco, as curated by Martyn Lawrence, Kathryn Ireland, and Nathan Turner. With such a globe-trotting focus, the drinks and food were appropriately geared toward the young jetsetter.
Cocktails were well crafted, including the Pimm's Cup (cucumber, Pimm's, lemon juice, simple syrup, soda); a tamarind cocktail (vodka, tamarind, lime juice, simple syrup, soda); and a cardamom lime martini (gin, vermouth, lemon juice, cardamom-infused simple syrup).
Hors d'oeuvres weren't too shabby, either, with tuna wrapped in cucumber, summer rolls with cilantro mint, crabmeat on endive, curry chicken puffs, and marinated Moroccan lamb with almond sauce.
Verdict: I would like to have seen more furniture and objects from the actual trips instead of the three large collages denoting each journey. I guess we'll have to wait for the online sale to hit the One Kings Lane site this Saturday.