Hot Apps: Foodspotting And Kraken Rum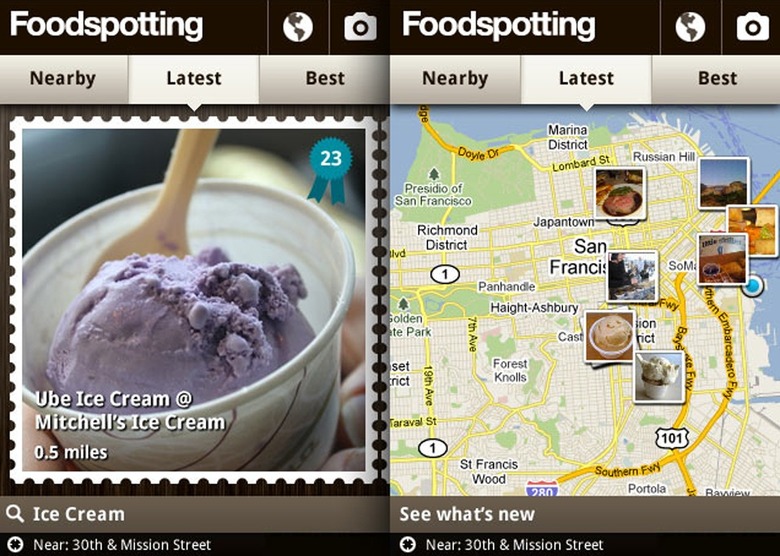 Smartphone applications can do all sorts of smart things for the food– and drink–inclined. You want a bowl of steaming soba a couple blocks from where you stand? Done. Do the exact measurements for a proper Negroni escape you? Done. How the hell do you crimp a pie shell? Done. Hot Apps road tests the latest and greatest applications—both Apple and Android—to find out the good, the bad, and the waste of $1.99.
Foodspotting

You've probably been hanging out at a restaurant recently—maybe sharing a bowl of hushpuppies or a Neapolitan pizza—when one of the members of the group frantically waves you off as you lunge for the first bite. "Wait, wait, I have to spot this!" says your friend as he whips out his camera phone and gives an oily pepperoni its big close-up. Maybe not, but with over 600,000 downloads, the act of Foodspotting—taking photos of dishes you like and logging them on a social network of the same name—is becoming popular. Also, less weird.
Once the app is loaded, photos appear in a horizontal scroll (sorted by Nearest, Latest, and Best). The Nearest uses geo-location (GPS) to pull your location, which is sorta the purpose of the entire thing—finding real examples of the dishes you possibly are going to order at the restaurant or bar you just stepped into. Stress the real examples; picture quality ranges from grainy and over-saturated to editorial quality. During a recent search near my office in NYC's Koreatown, I found a beautifully composed shot of a spiced latte from Starbucks (guh) and pretty nice shots of both the honey and soy garlic fried chicken wings at Kyochon (yum!). Users can elect to either Want photos (bookmark for later) or Nom them (Internet parlance for "I tried that and it's damn tasty").
Publishers like New York and the Travel Channel have curated guides that users can follow (top food trucks, classic tables in NYC). The interface there is a bit clunky—for example, there's no push-notification for when I'm near a dish for one of the guides I follow. That would be cool. Are you listening Foodspotting? But overall, this is an app (and social network) we can get behind. Even if it forces us to be that guy with the camera at the dinner table. Also, bonus points for aping the Trainspotting font. It's a good one. iPhone and Android, free. foodspotting.com
Kraken Rum Near Accurate Simulator
Kraken is dark spiced rum from a non-descript region of the Caribbean. It's likely similar to Captain Morgans—dark, strong, and sweet. I wouldn't know though. Haven't tried it. This column is about apps, not getting buzzed like in college. The sim is in the style of Spyhunter—you're the captain of a ship trolling a choppy sea filled with obstacles (rocks, giant squid). To steer, you tilt the phone left or right; speed is controlled by forward and back. The app is HUGE (over 50MB—which requires a WiFi signal for downloading). But the hand-etched graphics are sharp. The gameplay itself is, well, challenging. The squid ate me a lot. Subway rides will hopefully remedy this. iPhone, free. krakenrum.com
Other tech stories from Food Republic:
What are you favorite food– and drink–related apps? Tell us in the comments.