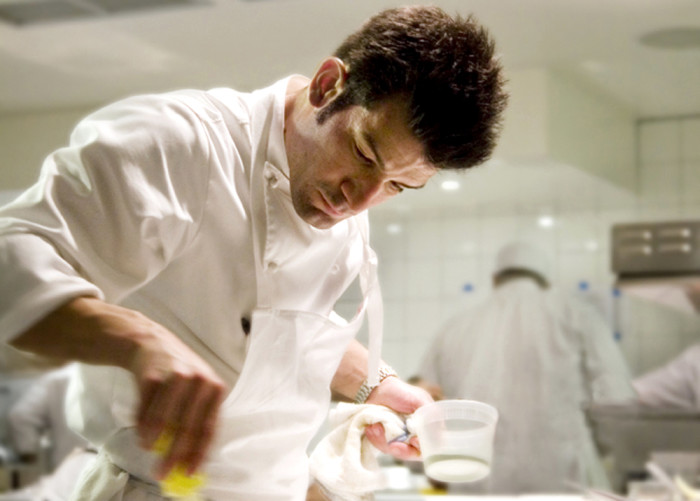 Most guys know their way around an Italian menu, a few can navigate a French carte du jour, but how many of you can say you're fluent in Portuguese cuisine?
George Mendes, executive chef and owner of Aldea in New York's Flatiron district, is just the guy to get you up to speed. Recently named among Food & Wine magazine's Best New Chefs, and a competitor on this season's Top Chef Masters—which airs Wednesday nights on Bravo—Mendes calls Portugal "the little culinary train that could, waiting around to prove itself."
So what's Italy and Spain's lesser-known culinary counterpart got to offer? According to Mendes, lots of soulful rustic fare with robust flavors, made using many of the same ingredients—olive oil, garlic, onions, fresh herbs. Portuguese food mirrors Spanish gastronomy in its extensive use of shellfish and, much like in Italian cooking, basil's ubiquity.
Plus, what Portuguese cuisine lacks in notoriety it makes up for in simplicity—most dishes require less than six ingredients.
Popularity contest or not, Mendes, who's hellbent on Portuguese cuisine gaining momentum, gives us a rundown of popular dishes and a quick, at-home recipe sure to charm in any country.
Eat
Shrimp Alhinho, made with garlic, coriander and pimenton is a very garlicky shrimp prepared with extra virgin olive oil. It's a dish I grew up with as a child, and it's very popular dish in Lisbon. You just pull up to a counter, grab a plate and peel and eat the shrimp. At Aldea the preperation is still quintessential street-food but elevated to a fine dining, fork-and-knife dish.
Wanna try cooking it at home? Chef George gave Food Republic the recipe.
Arroz de Pato: The duck rice was one of the last items that was added to the menu, so I never thought it'd become so popular. I needed one more entrée so I ventured into the rice territory. In Portugal, it's very much a peasant dish where you cook the whole duck with chorizo, rice, spices—a very simple, one-pot meal—but for the restaurant I decided to take it apart and use different cooking techniques.
Chef George also hooked us up with this recipe, but beware that for either of these, you'd better be a damned good cook to begin with! We even broke out a new category of difficulty, "Insane"!
Drink
Vinho Verde, from the Minho region in the far north part of Portugal, is made from unripe grapes and is very effervescent and tart in a Granny Smith apple sort of way. We drink it with everything.
Cook
At home, I would definitely go with clams: Manila or Littleneck. Start by sweating sliced onions and garlic in olive oil, add clams, vinho verde and let it all cook in the wine broth. Finish it off with fresh cilantro and squeeze of lemons, and that's it.
Bom apetite!