Beef Short Rib Sandwich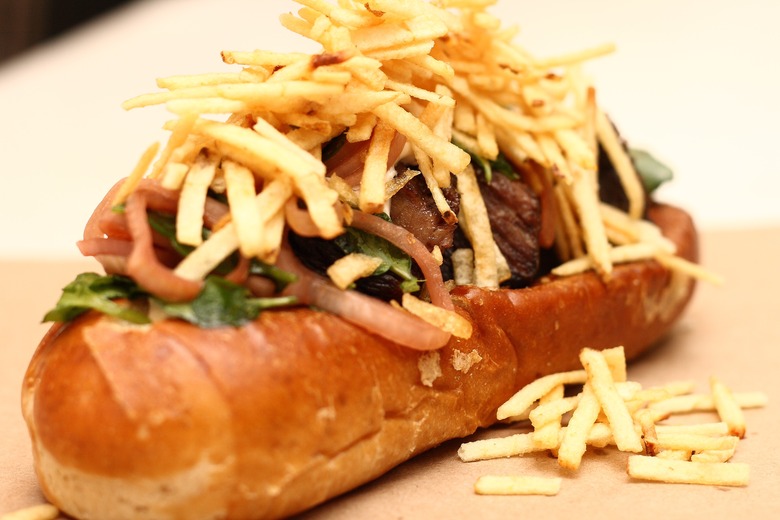 Welcome to our weekly sandwich of the week, where we investigate the best things that you can put between two slices of bread. Or croissant. Or pita. Or sometimes even doughnuts. Really. But not this week, this week we are celebrating a sandwich that is, well, sandwiched, in a pretzel. Kind of crazy. As in crazy good.
Get ready to meet (or eat) Food Republic's Sandwich of the Week: The Beef Short Rib Sandwich.
Chicago chef Graham Elliot is known for innovative and excellent fine dining (not to mention awesome music taste; his website pops up with a Sufjan Stevens song). He was the nation's youngest four-star chef with perfect reviews from Chicago magazine, Chicago Sun-Times, and the Chicago Tribune, as well as three James Beard award nominations when he helmed the kitchen at Avenues. He went on to open the eponymous fine-dining Graham Elliot in 2008, where the molecular whiz kid became known for high-low combos like Pop Rocks-rimmed foie gras.
But Elliot also has a love for food with less lofty aspirations. He was the Culinary Ambassador for Lollapalooza in 2009, where he cooked for the crowds and backstage for the bands. And in 2010 he opened up Grahamwich, where he serves housemade sodas and quirky sandwiches which he describes as "one part tasty filling, two parts bready goodness."
The bread in his beef short rib sandwich is a hollowed-out pretzel roll, somehow crispy and gooey all at the same time. The tasty filling is chunks of tender beef short rib, topped with watercress and slathered with creamy horseradish sauce. The bite from the cress and horseradish contrast with the sweet density of the meat, and then the whole thing is topped with shoestring fries for another layer of salt and crunch. Outstanding.
Last week's sandwich of the week: The Num Pang Hoisin Veal Meatball Sandwich
Plus, our best grilled cheese recipe!
---
Got a candidate for Sandwich of the week? Nominate your faves in the comments and we'll check them out.