What I've Seen: Ivy Stark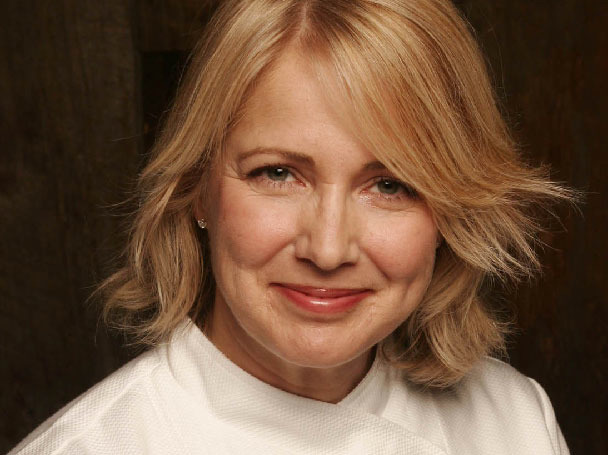 Headshot of Ivy Stark
Since graduating from Peter Kump's townhouse-turned-cooking academy on NYC's Upper West Side, Ivy Stark has become a culinary chameleon who has landed positions in some of America's most important kitchens. She's done classic French, pan-Latin, Mediterranean, and pastry—not to mention running the beverage program at Brasserie 8½. (Oh yeah, all while working under industry heavies Gary Robins, Susan Feniger and Normand Laprise.)
It's clear after talking with the chef—about a recent special or a trip to Mongolia or a dissection of Curtis Granderson's batting average—that she's got a crazy amount of passion for her activities in and out of the kitchen. More recently, I've witnessed this fire first-hand at Dos Caminos, where she oversees hundreds of kitchen workers as Executive Chef at the mini empire of upscale Mexican cantinas in New York, Las Vegas, and Florida.
Stark recently shared some of her most-memorable moments in the kitchen, and on the blogs, for the first installment of What I've Seen on Food Republic.
Tell us about the last time you... spotted a big-time critic in your restaurant
I remember my first experience with a big-time critic. I was working at Match Uptown as Gary Robins' sous chef and Ruth Reichl, who was the reviewer for The New York Times then, came in. I remember Gary, the other sous chef, and I hunched over three duck breasts that I had just cooked for her table—and examining them as intensely as if we were surgeons in an operating room deciding where to cut. It was really my first lesson in how chefs cook for critics—three of everything.
...kicked somebody out of your kitchen or restaurant
A pastry chef I worked with many years ago came into work very drunk one afternoon, stepped on the line, and asked the food runner to go to the bar and get him a whiskey. I had to gently escort him to a cab.
...had or witnessed a bloody kitchen injury
For myself it was cutting off a large chunk of my left index finger while shredding cabbage—probably my first week in the kitchen. But I've seen much bloodier stuff. A prep cook took off two fingers in a food processor way back when I was a line cook. The chef fainted and I had to run over and patch up the guy, find his fingers in the masa he was grinding, and put them in a bag of ice to send with him to the hospital. It was quite bloody.
...were jealous of another chef
I am always jealous of Ana Sortun [of Boston's Oleana]. Her interpretation of Mediterranean cuisine is really inspiring and I aspire to her level of talent.
...read something false about you in print or on a website
It happens more frequently than I'd like. Sometimes it's a funny misquote. There was once a rumor that I opened a restaurant named after my dog. Sometimes it's something mean-spirited, which can be very surprising and painful.
...got drunk at your restaurant
Never, but I do have a tradition of one tequila to salute the New Year on my way home at midnight every New Year's Eve.
...dated a staff member
I have only dated one co-worker, about 15 years ago. I used to shoot peppercorns at the back of his head through a cocktail straw while he was plating up if I was mad at him. It hurts if you get some velocity going. So ridiculous. I stick with civilians when it comes to dating.
...took your staff on a field trip
I take our chefs out to dine frequently to keep our eyes and minds fresh. On one trip we took the Amtrak to Philadelphia to eat at a Jose Garces restaurant, which was delicious. One of our chefs had a margarita or two and insisted on carrying my purse home through the train station, on the train, all the way to the cab at Penn Station.
...had a celebrity enter your dining room
A career highlight was cooking for Jorge and Laura Posada. I have never wanted anyone to like the food so badly in my life. I was in the kitchen saying to myself, "Oh please let their plates come back empty." They did, but then I spent the rest of the evening wondering, "Did they really like it?"
...fired somebody
When I was working in Los Angeles I fired a cook who was always and unrepentantly very late for work. But he refused to be fired and showed up to work (late of course) for three days after I fired him, only to have me fire him again and again until he really believed he was fired. The final time I fired him he asked to see the human resources manager, which as a small restaurant, we did not have. I had to explain to him that I was the human resources manager. I think that's when he finally understood. He didn't come back the next day.
...improvised a dish to instant perfection
I was cooking for a new boyfriend and created a sautéed calamari with chorizo, white beans, and roasted garlic. It has become sort of a signature dish. I guess I was inspired by amour.
...felt defeated
When I have disappointed a guest.
...felt overjoyed
Recently a former employee came to tell me about her new executive chef position and thank me for her success.