Be Here Now: The Porch, Key West, Florida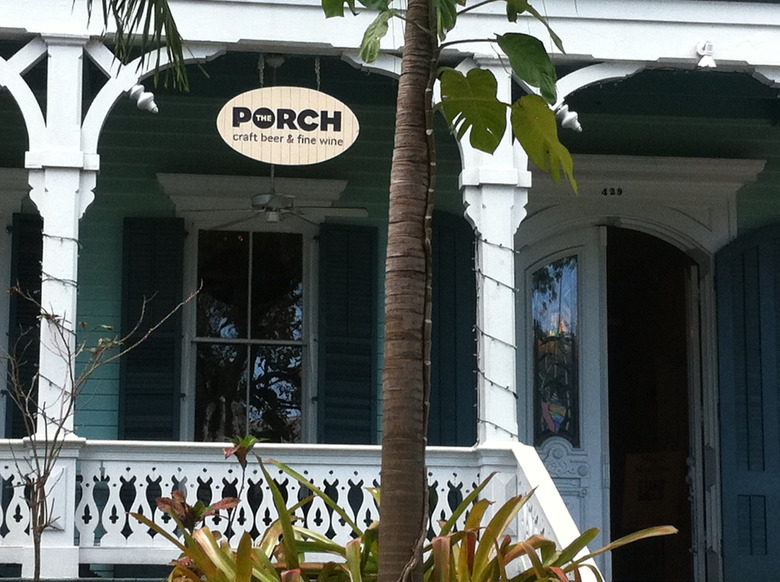 When you think Key West, the first thing that comes to mind is margaritas. Or mojitos. Or fruity drinks swirling around in a contraption behind the bar.
All the stereotypes are true: People walk around in the streets (legally) drinking all manner of corrupted spirits and kooky cocktails. Oh, there are exceptions. In a town that perhaps needs the Bloody Mary more than anywhere else on the planet (okay, Vegas and New Orleans have an argument here), Blue Heaven has a killer one, perfectly spiced, unencumbered by anything but a simple celery stalk and an olive or two.
But the really crazy new place in Key West isn't one of the funky backyard dives or Duval Street drunkenness emporiums, but The Porch, an absolutely charming wine and craft beer bar where true connoisseurs can drink serious brews or Bordeaux before or after downing their cheeseburgers in paradise.
We visited The Porch recently despite a local trying to steer us away by sniffing, "If you wanna go to the place that's trying to be like Brooklyn, then go there." It's actually a charming old home right off delirious Duval (the Bourbon Street of Key West), with a sprawling porch where couples and friends spread out and drink Dogfish Head on tap, bottles that you'd be impressed to find in Boulder or Portland.
You want wine? You'll find decent wine lists at the better restaurants in Key West, but this The Porch is the place where you can discover that require real attention to detail. We even spotted a wine we hadn't seen since a trip to Sonoma a few years back, Armida's coffin-boxed red Poizon.
Did a man in a plush dog costume walk up onto The Porch while we were sipping our beers and wine? Yes, but you didn't come to Key West for normalcy now, did you? Still, that shouldn't prevent you from having a proper pint or a noteworthy wine, and The Porch is the place to do that.
---
Have you drunk your way up and down Duval in Key West? Spill your guts in the comments.