Super Chef Fridays: Alain Ducasse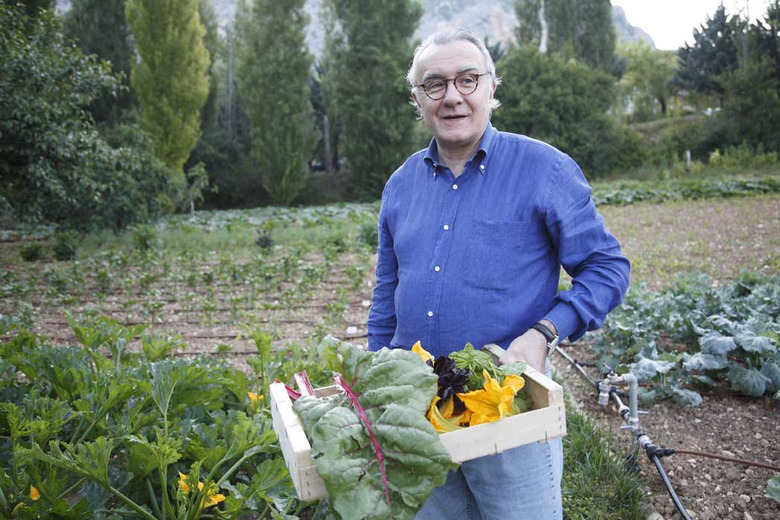 portrait of Alain Ducasse
Sitting in a private dining room at Benoit New York, an exquisitely dressed Alain Ducasse—black Christian Lacroix suit with just a splash of red on the lapel; trademark tortoiseshell glasses resting next to a buzzing Blackberry, and hand-written to-do list that seems to grow every couple minutes —wants to talk about sex. "You have to work it! There has to be spice," says the chef in French that's accented with a hint of his rural Southwest upbringing. "You must add a little sexiness to vegetables."
Making crowds long for legumes is a challenge the internationally respected chef has been dealing with for over a quarter of a century—well before vegetables became the new pork belly and produce-driven tasting menus and inventive vegetable (not vegetarian) restaurants earned acclaim.
Twenty-five years ago Ducasse launched a vegetable-driven menu at the grande luxe Le Louis XV at the Hotel de Paris in Monte Carlo. It was a revelation for many in the culinary world, and an insanely expensive one at that. It's currently 210€ (sans wine). Twenty openings later—including Adour at the St. Regis in New York and Washington D.C.—he's continued with a style of cooking that focuses on not only vegetables, but grains too. He contends the ideal balance is 80% veg/grain and 20% protein. All prepared with a refined sensibility that has earned him global praise and Michelin stars—he now holds nine for restaurants in Monaco, Paris, and London.
Food Republic spoke with the chef about Sarkozy (chocolate lover), better living through goat's milk, and America's most underrated chef who "should be right behind Thomas Keller."
Why was it important for you to open a restaurant like Spoon in Paris—where you are focusing more on vegetables and grains than proteins?
It was a test. All of my colleagues were opposed to the idea. Everybody was saying it was premature.
What was your response to the critics?

The audience that we are targeting may be marginal, but it has grown very fast. People are curious and adventurous. It's very Parisian—a bohemian and bourgeois clientele. The age range of the diners is between 25 and 45. We can be radical.
Sounds like Brooklyn!
I dined at Blue Hill at Stone Barns last night. It's an extraordinary achievement for [Dan Barber] to start with nothing and evolve it into this amazing experience. I travel everywhere and try everything and this guy is extraordinary. He should be a star in the North American culinary world.
I mean, he's already there...
He's getting there, but I almost feel like Thomas Keller at the French Laundry gets all the press. Barber is only getting 5% of the press. He should be right behind Thomas Keller. It's actually a dream of mine to open an autonomous restaurant on a farm that is natural and organic. It's a 10-year process to open a restaurant like that. I was born and raised on a farm in the Southwest of France. It would be like that.
Answer honestly. Have you always been open-minded to a vegetable/grain–heavy diet, or was this acquired over time? It was certainly not a trend even 15 years ago...
25 years ago when I was at Le Louis XV I started a menu dedicated to vegetables entirely. Right now, 15-20% of our sales are for vegetable-only dishes.
What was going through your head when America became obsessed with the low-carb diet?

"We need to change that."
What is the first grain to hit your mouth in the morning?
Porridge with goat's milk.
Goat's milk?
It's a personal preference and I think it's healthier than cow's milk. My friend is a dietician and suggested I try it. He's my new guru.
Is there a grain Americans should be using more of? An undiscovered grain, if you will...
The first problem is that many people are showering grains with pesticides. Ideally, everybody would stay focused on bio-organic farming. For grains, I love quinoa and farro. Épeautre is an ancient wheat found in the Southeast of France. Also, when you look at rice, there are many different worlds. Iranian rice is vastly different than Japanese.
Have you been to the vegetable garden in the White House?
I have not, but my restaurant in DC is 300 meters away.
Does President Sarkozy have a vegetable garden?
I'm not sure, but he eats a lot of chocolate (laughing).
Do you consider yourself a political person? I ask because I Googled "Alain Ducasse political" and didn't find a lot...
I do things, but don't bank on it from a communications perspective. It's an action and not a PR tool. I am doing something with the Clinton Global Initiative—which is themed to help women, specifically. In a Paris suburb, I run a program that takes 15 women and gives them an opportunity to receive a culinary degree. If they go through the entire process, they are placed in one of my restaurants. They will be graduating this June. The final step is preparing a meal for the Prime Minister.
Do you feel threatened by young chefs doing things like molecular gastronomy?
You have to celebrate the diversity of talents that men and women have. If you look at the planet from a bird's eye view—and scan the offerings—it's fascinating. The more I travel the more I eat and the more ignorant I become. It's part of the richness in the bar of cooking. 5% is the guy making artificial proteins and 10% is the guy doing molecular gastronomy and 10% is what Dan Barber is doing and 10% is traditional cooking.
What do you think about the recently released book Modernist Cuisine?
It's fantastic work. It's the work of a team. But a guy like Dan Barber doesn't need to buy that book. He has his philosophy and he went all the way with it.
What country do you most want to expand to?
China and South America, but right now we don't have the partner in place. After that, I'd like to work on the possibility of opening a restaurant on Mars.
---
Think you're up to the task of cooking grains and veggies like Chef Ducasse? Try this quinori cocotte recipe, excerpted from his book about eating this kind of diet, Nature, simple, sain et bon (Alain Ducasse Edition).
Next week's Friday Super Chef? Ferran Adrià. Who else would you like to see get the Friday Super Chef treatment on Food Republic? Let us know in the comments.