Last Night's Party: Dockers In NYC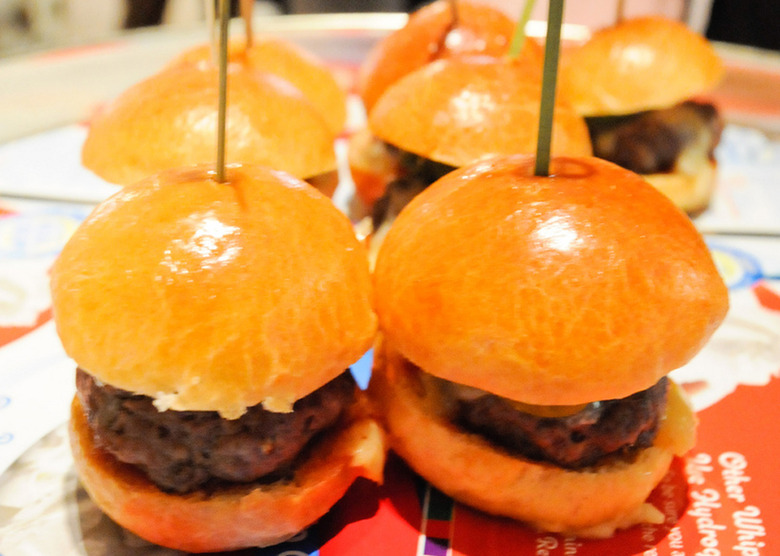 Food Republic's style editor Brett Fahlgren has been traveling the country for years hosting and attending events. He's eaten his share of passed hors d'oeuvres and sampled every kind of specialty cocktail you could imagine. Now on Food Republic, he'll regularly report on the details of last night's party.
What: Dockers Fall/Winter 2011 Collection Launch Party
Where: 174 Hudson Street, NYC
Drinks: Bushmill's Irish Whiskey
Food: Silkstone Catering
DJ: Biz Markie!
Scene: Dockers held an event last night (Thursday, April 7) celebrating its Fall Winter 2011 collection in Tribeca. The presentation was all about function and rugged versatility, and not just with the clothes; the 10-12 models stood on stacks of wooden pallets like you'd see in a warehouse.
The large circular bar featured straightforward, tasty cocktails, including a simple Bushmills on the rocks, with Coke or with ginger ale. The ginger ale was Boylan's: "The absolute best ginger ale out there," according to the bartender.
The food? Well it was Silkstone Catering, the same folks who started one of Food Republic's favorite NYC restaurants, The Fat Radish. The tray-passed hors d'oeuvres included grilled cheese (sliced thin with extra sharp cheddar and apple relish), fish n' chips (the chips being miniature potato sticks) mushroom quesadillas, bite-size cheeseburgers, and carrot latkes (best in show).
Verdict: It's time to give Dockers a second look. The khakis given away to all attendees were modern and nothing like the earlier baggy "Dad khakis" we all remember. And the K1 collection was a standout, with worn, oil-treated trousers looking like something a longshoreman (or a bartender at a rustic urban locavore restaurant) would wear confidently.
Brett Fahlgren is the style editor of Food Republic and publisher of the blog Style Correspondent.