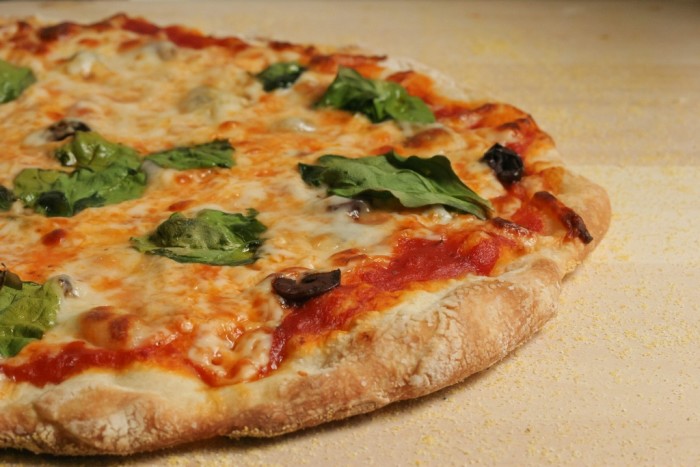 Among our very many food obsessions here at Food Republic HQ is pizza. So each Friday we will be bringing you a new favorite place to find a great pie or slice.
For our inaugural Pizza of the Week, we have strayed far from our headquarters in NYC, home to much of the world's great pizza. Yes, we are looking 3,000 miles to the west, to a Pacific Northwest pizzeria that does good while making pies that taste great. Ladies and gentlemen, we give you Hot Lips Pizza in Portland, Oregon.
(Scroll down to the bottom for a version of the recipe that you can make at home.)
Hot Lips is about as green as a pizza place can get. The ingredients are local, most of the delivery methods are electric or pedal-powered, the cutlery is compostable, and the waste heat from the pizza ovens is used to heat not only the water for dishwashing, but also helps heat the entire Ecotrust building in the Pearl District. Oh, and Hot Lips housemakes its own sodas. Really, blueberry soda. Fresh apple soda. It's kind of insane.
But all of this do-gooding alone wouldn't make this pizza a contender for Food Republic Pizza of the Week. We fell for the crisp crust and the oozy, melty 100 percent whole milk, locally made mozzarella. The basic pie is a standout, as is the squash, brie, and onion veggie pie, and the Carlton Farms smoked bacon and local (of course) spinach pie. But our favorite here at Food Republic is a little offbeat, a little global. It's a curried cauliflower pizza.
Since it's a frequent special at Hot Lips, it's not always on the menu. In case it's not, and since you may not live in Portland—which is a shame, because Portland's a very nice place to live—we have the tools for you to recreate this pizza at home in four easy-ish steps:
Slice up a small head of cauliflower, toss with olive oil and one tablespoon of curry powder.
Place on a baking sheet and roast at 350 degrees for about 20 minutes.
Take our best basic pizza dough and top it with our best basic tomato sauce, the roasted cauliflower, and about one cup of your favorite—locally made if possible—mozzarella.
Follow the directions for cooking in the best basic pizza dough recipe and enjoy.
---
Okay, pizza lovers. Get your nominations in for future Pizza of the Week pizzas, right here in the comments.